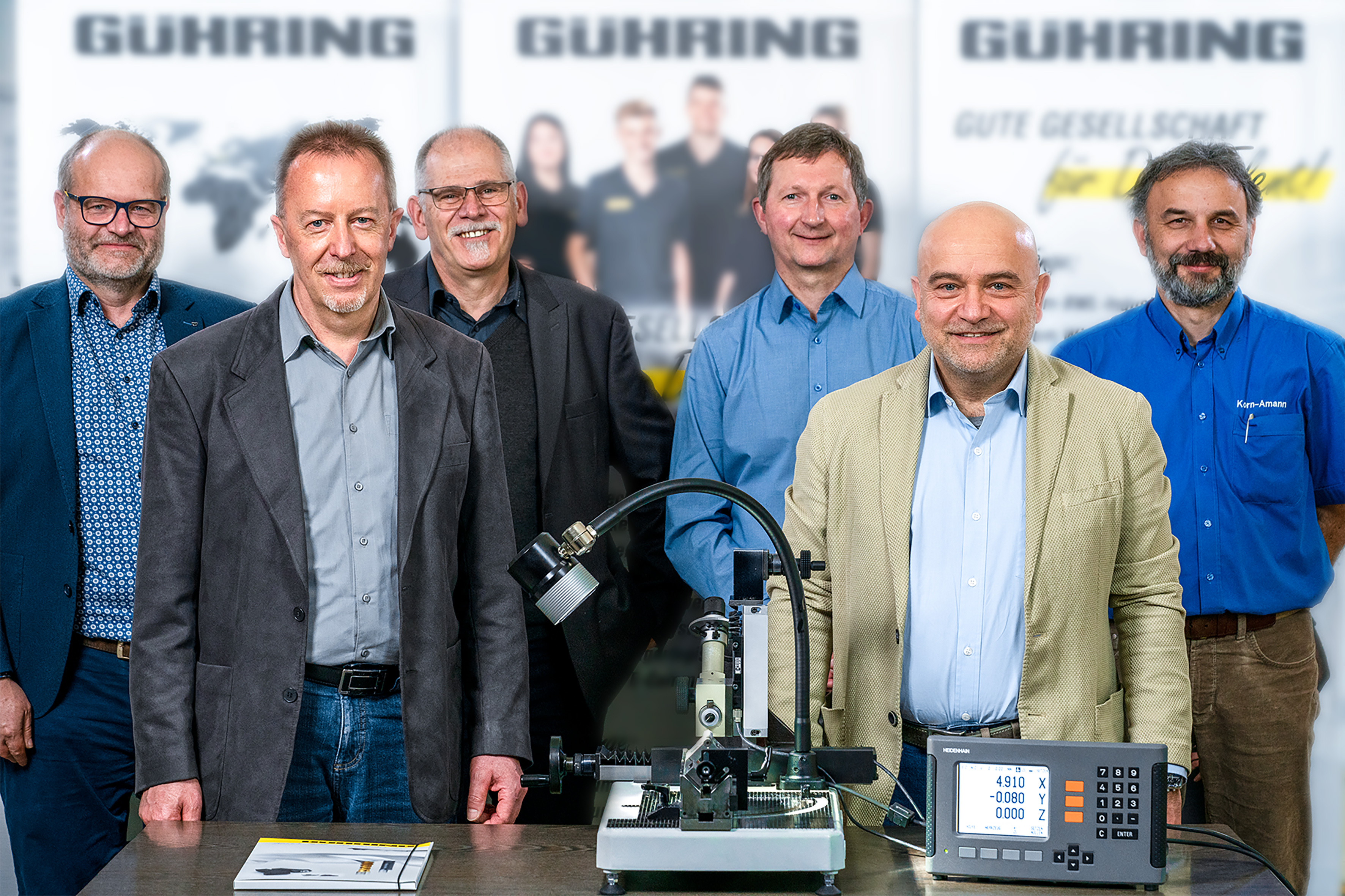 Von links: Ottmar Frick, Roland Boos, Günter Hartmann, Jochen Hanser, Abteilungsleiter Savas Arslantepe und Klaus-Dieter Korn-Amann bei der Übergabe
Um junge Menschen auf hohem Niveau auszubilden, darf hochwertige Ausrüstung auch in der Schule nicht fehlen. Mit großer Freude übergaben unsere Ausbildungsleiter kürzlich ein von Gühring entwickeltes Messgerät an die Bertha-Benz-Schule. Ob Länge, Winkel, Kontur oder Form – das Messgerät ermöglicht eine genaue Messung von mechanischen Bauteilen und Werkzeugen.
Das Messgerät ist eine Eigenentwicklung von Gühring. Es ermöglicht die Messung von mechanischen Bauteilen und Werkzeugen durch eine Optik mit zehnfacher Vergrößerung. Somit ist es den Schülerinnen und Schülern in Zukunft möglich, auch bei komplizierten Werkstücken, beispielsweise mit einem Gewinde, Länge, Winkel, Kontur und Form zu prüfen – und zwar auf eine Genauigkeit von 0,01 mm. Sämtliche Messergebnisse werden dirket am Display des Geräts angezeigt.
Von dieser neuen Technik profitiert die Ausbildung von Zerspanungs- und Industriemechanikern, am Technischen Gymnasium und an der Berufsfachschule. Künftig wird das Gerät aber nicht nur von angehenden Zerspanungsmechaniker:innen genutzt, sondern von allen Schülerinnen und Schülern der Bertha-Benz-Schule. Aktuell ist das Messgerät Teil eines von Fachlehrer Jochen Hanser geleiteten Projekts. Dabei vermessen und dokumentieren die Zerspanungsmechaniker:innen des dritten Ausbildungsjahrs den mit angetriebenen Werkzeugen gefrästen Exzenter eines Drehteils.
Es sei wichtig, dass alle an einem Strang ziehen, um die Qualität der Ausbildung zu garantieren, erklärte Ausbildungsleiter Günter Hartmann bei der Übergabe des Messgeräts. Schließlich sei die eigene Ausbildung von Facharbeitern der Garant für den Erfolg und die Zukunft eines Unternehmens. Auch der stellvertretende Schulleiter Ottmar Frick bedankte sich bei Gühring für die Unterstützung. Nur in enger Kooperation zwischen der Schule und den Betrieben sei die fachliche Ausbildung der Azubis auf hohem Niveau möglich, betonte Frick.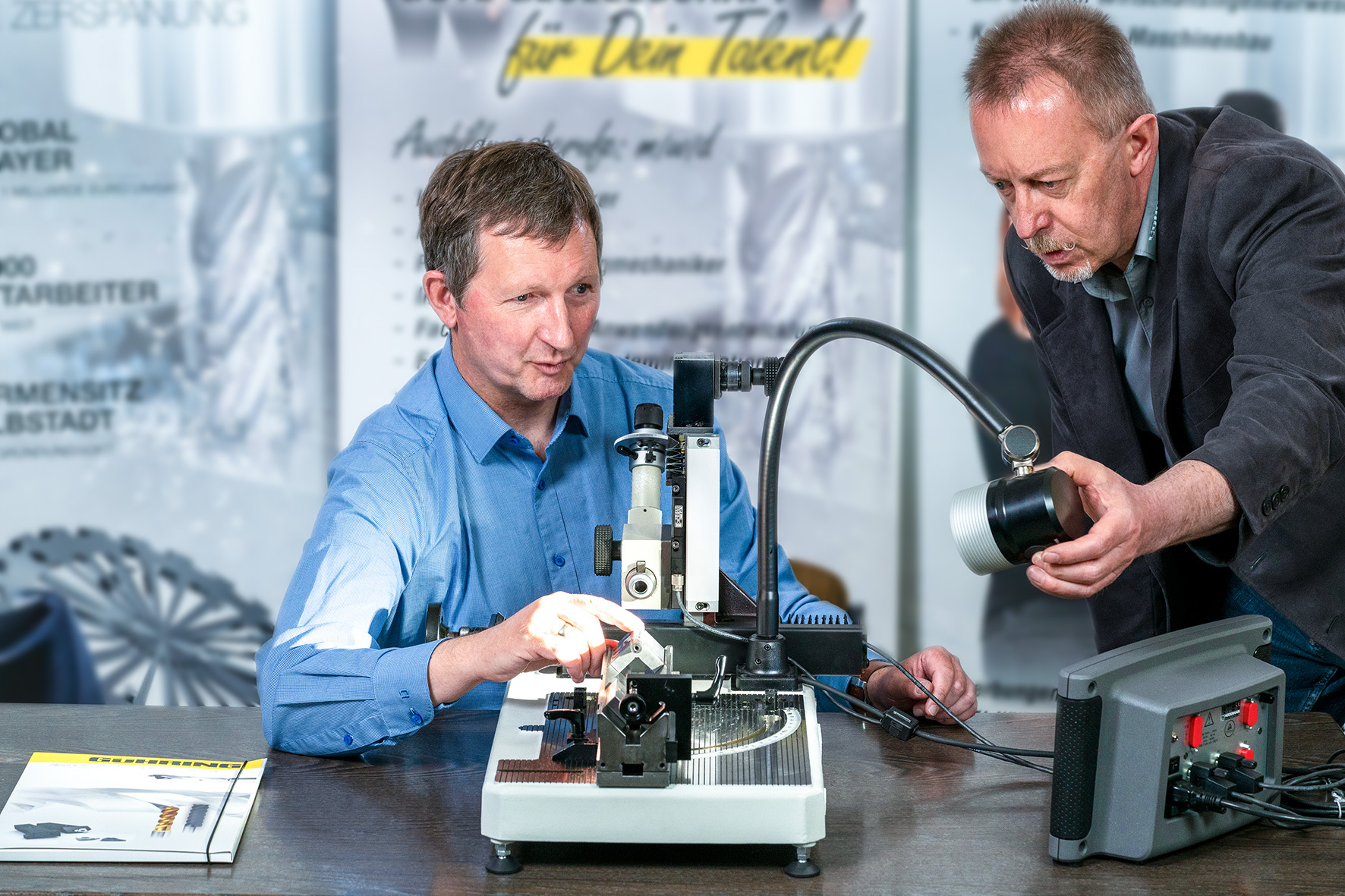 Jochen Hanser (li.) und Roland Boos nehmen das Messgerät genau unter die Lupe.
"Wir müssen den jungen Menschen zeigen, dass wir hier Schätze an Firmen in der Region haben, die hervorragende Zukunftschancen bieten", erklärte Hartmann zudem bei der Übergabe. Als Global Player bietet Gühring jungen Menschen Berufs- und Karrierechancen in der Region, aber auch weltweite Einsatzmöglichkeiten an den verschiedenen Standorten des Unternehmens. 
Mehr zu den Ausbildungsmöglichkeiten bei Gühring finden Sie hier.
Das könnte Sie auch interessieren:
Page not found
The page you requested could not be found. Try refining your search, or use the navigation above to locate the page.