PowerMill – unique in price and efficiency
With the Powermill programme Guhring is introducing a complete range of universal milling cutters onto the market, promising optimal performance at first class prices.
The programme consists of various tool types in all dimensions for various machining key points. What they have in common is the universal material suitability that is the feature of the programme. As well as two- and three-fluted milling cutters for aluminium, multi-tooth end mills or copy milling cutters for finishing operations roughing milling cutters and HPC milling cutters are also available.
Specifically developed coating and established coating 
In terms of manufacturing and application technology the Powermill programmes was specially re-designed. This means the universal milling cutters distinguish themselves thanks to specifically developed face geometries as well as a broad spectrum of possible milling operations in various materials including ramping and HPC roughing in heat-treatable steel and cast materials up to finishing in hard machining. In order to achieve a high metal removal rate with universal milling cutters, the face geometries of established Guhring milling tools were optimised. As well as a face correction various milling cutters of the Powermill programme are equipped with Guhring's Fire-coating. The multi-layer coating of titanium- and aluminium-nitrides distinguishes itself through a high hardness as well as a good thermochemical resistance for a high shock resistance and wear resistance.
Economical and universal
Thanks to Guhring's R&D established for the development of tool geometries for maximum performance, Guhring's coating and system division for the development of machines for high-precision grinding as well optimal finest grain carbide, time and again innovative manufacturing processes are created. Besides world-wide uniform quality standards and large manufacturing quantities these Guhring core competencies make the Powermill programme possible in terms of economic efficiency and quality.
Downloads / Links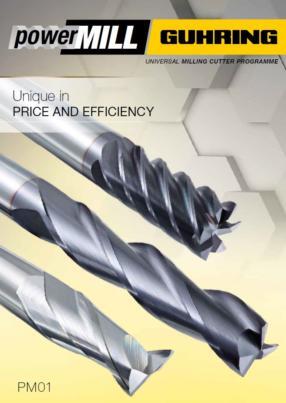 PowerMill – universal milling cutters programme
Unique in price and efficiency

SuperLine Catalogue
PowerTap Catalogue