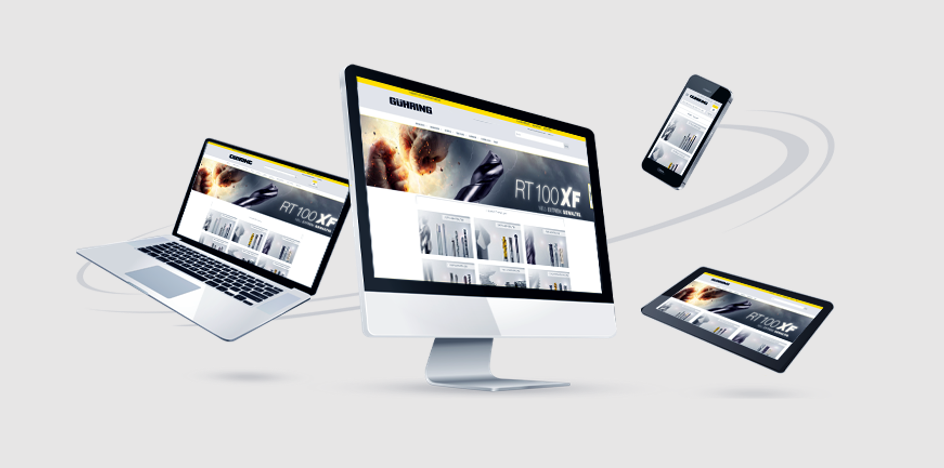 "Der Gewinn liegt im Einkauf", besagt eine alte Kaufmannsweisheit, die bis heute Ihre Gültigkeit hat. Denn wer hier an den richtigen Stellschrauben dreht, kann Prozesskosten sparen. Wir helfen Ihnen dabei: Denn unser Onlineshop bietet registrierten Nutzern nicht nur viele nützliche Funktionen, sondern lässt sich auch über ESIS® und OCI mit Ihrem ERP-System verbinden. Wir stellen Ihnen die beiden Schnittstellen vor.
Die OCI-Schnittstelle
Bei der Werkzeugbestellung bietet OCI den Vorteil, dass Sie weiterhin in Ihrem System alle Prozesse steuern können, aber trotzdem von der Nutzung des Gühring-Onlineshops profitieren. So haben Sie über Ihr ERP jederzeit Zugriff auf tagesaktuelle Preise und Verfügbarkeiten. Und auch das aktuelle Produktportfolio von Gühring wird Ihnen immer angezeigt, denn wir aktualisieren den Shop regelmäßig, wenn neue Artikel hinzukommen.
Mit OCI starten Sie die Bestellanforderung in Ihrem ERP-System. Dort ist unser Onlineshop dann als Lieferantenkatalog über die OCI-Schnittstelle integriert und Sie können diesen einfach aufrufen. Der Bestellprozess selbst findet sicher in Ihrem eigenen System statt. Wenn Sie Ihren Warenkorb im Shop befüllt haben, können Sie diesen mit OCI in Ihr ERP-System übertragen und von dort auf dem gewohnten Weg die Bestellung auslösen.
Die ESIS®-Schnittstelle
Viele Kunden nutzen Onlineshops nur ungern, weil sie bei der Onlinebestellung Bestelldaten oder Materialstammdaten doppelt erfassen müssen: Einmal im Lieferantenshop und einmal im eigenen ERP. Hier wird mit dem ESIS®-Konzept eine Lösung geboten. ESIS® steht für easy supplier integration services und dient dazu, Onlineshops im B2B-Bereich besser zu integrieren. Denn Systembrüche bei Bestellprozessen verursachen sehr hohe Kosten, sind zeitaufwändig und mit Mehraufwand verbunden.
Hier möchte ESIS® Abhilfe schaffen, indem sie den Gühring-Onlineshop mit Ihrem ERP-System verbindet. Sie erfassen Ihre Bestellung in unserem Webshop und alle Bestelldaten werden direkt in Ihr ERP-System übertragen. So werden die Bestelldaten automatisch ausgetauscht – ohne dass Sie Ihre Bestellung doppelt erfassen müssen. 

Wie genau Ihr Bestellprozess mit ESIS® und OCI aussehen kann und wie viel Zeit Sie dadurch sparen, erfahren Sie im Web-Seminar "Prozesskosten sparen mit Schnittstellen" in der Gühring-Academy. Jetzt hier registrieren.

Das könnte Sie auch interessieren:
Page not found
The page you requested could not be found. Try refining your search, or use the navigation above to locate the page.