Tool deburing
Operasi deburring internal dan eksternal – cepat, bersih dan otomasi penuh
Guhring menyediakan berbagai standar tool deburing lengkap untuk entri lubang finishing hole entry, hole exit dan cross hole exit – termasuk tool carbide solid pertama di dunia untuk de-burring dari hole entry dan exit. Konsumsi waktu dan waktu Proses Machining secara manual yang mahal dapat dikurangi dengan deburing mekanis dalam proses operasi otomasi penuh. Hal lain adalah EWR 500 yang mampu menghaluskan lubang silang hingga ke dasar.
Untuk kualitas benda kerja – terutama intersecting dan cross holes – khususnya deburring exit pada praktiknya menjadi semakin penting. Ini berlaku untuk, misalnya, galeri oli di mesin modern berperforma tinggi, di mana laju aliran optimal bergantung pada deburring exit yang sempurna. Deburring yang sangat akurat dan menghasilkan champer juga semakin dibutuhkan dalam crankshafts, valve blocks, steering arms, rotational housings, drive elements, injector nozzles dan brake cylinders. Sementara deburring entri lubang hampir tidak menyebabkan masalah, deburring exit dari lubang yang didrill dalam banyak kasus melibatkan operasi yang lebih ekstensif sering dilakukan secara manual yang memakan waktu dan biaya.
Inilah perkembangan terakhir, reamer re-burring EWR 500, menemukan aplikasinya.
Dengan banyaknya tool de-burring, Guhring saat ini menawarkan berbagai kemungkinan untuk secara mekanis menyelesaikan persyaratan tugas yang rumit. Ini tidak hanya berarti penghematan biaya dan waktu yang cukup besar untuk produksi, tetapi juga, yang lebih penting, peningkatan kualitas dan keandalan proses. Selain itu, Guhring menawarkan milling cutter deburing untuk deburring eksternal hingga tugas aplikasi khusus yang diminta pelanggan.
HSS-/HSCO Countersink SpyroTec penggunaan universal untuk berbagai jenis material, dengan 60 % lower feed force and 50 % lower radial force. Countersink untuk ketepatan dan kehalusan.
EWR 500 reamer deburing
Sewaktu deburing dengan reamer konvensional, burr antara tool dan lubang menjadi tumpang tindih. Proses proses machining mengalami hambatan.
Berbeda dengan reamer konvensional, reamer deburring EWR 500 yang baru, burr diproses dengan cutting andal. Tekanan cairan coolant yang keluar secara radial menutup celah di sisi yang berlawanan arah antara tool dan dinding lubang. Tekanan kontak memungkinkan penghapusan burr pada akar. Reamer deburing tersebut juga dapat diterapkan untuk fit karena dinding lubang tidak rusak. Posisi dan jumlah lubang exit disesuaikan berdasarkan tugas aplikasi. akibat beberapa lubang exit coolant, tekanan kontak permanen dipastikan. Hal ini mencegah penurunan tekanan di cross hole.
Kualitas finishing permukaan dari lubang yang telah diream tetap terjaga
Waktu proses yang singkat berkat pergerakan cepat dimungkinkan di luar cross hole
Rentang diameter fleksibel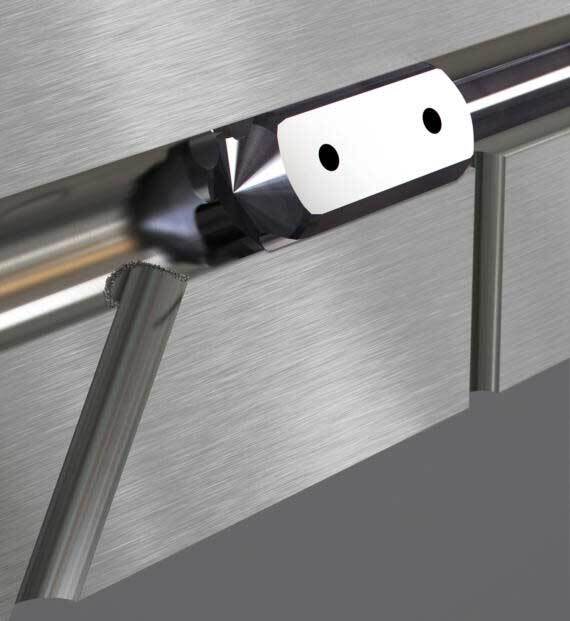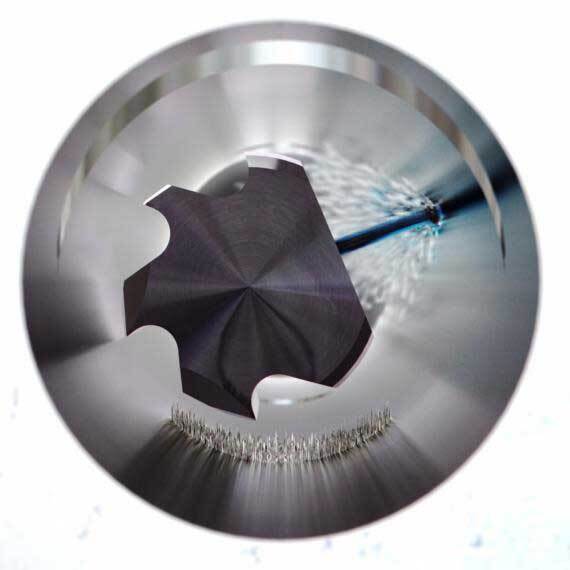 EW 100 G deburring fork
Deburring internal dan eksternal otomatis dengan garpu deburring EW 100 G adalah alternatif yang mudah dan hemat biaya dibanding operasi manual yang umum dan ekstensif. Hanya satu tool untuk semua langkah proses machining.
Tooling universal untuk aplikasi milling, turning dan robotik
Rentang 0,25 mm memungkinkan aplikasi deburring fork kami di lubang dengan toleransi besar
Deburring fork EW 100 G bekerja secara otomatis dengan satu kali pengaturan dan siklus pendek
Benda kerja di mesin garpu deburing dengan satu cross hole serta benda kerja dengan potongan multi-interupted menghasilkan deburred face dan ends of the hole.