Deburring Tools
Internal and external deburring operations – quick, clean and fully automated
Gühring provides a comprehensive standard range of deburring tools for mechanical finishing hole entry, hole exit and cross hole exit – including the world's first solid carbide tools for mechanical deburring of hole entry and exit. Instead of time consuming and costly manual work the machining time is reduced with mechanical deburring in a fully automated operating process. Another highlight is the EWR 500, which deburrs cross holes right up to the root.
For the quality of the workpiece – especially with intersecting and cross holes – in particular exit deburring is gaining more and more importance. This applies to, for example, oil galleries in modern high performance engines, where an optimal flow rate is dependent on perfect exit deburring. Highly accurate deburring and producing a chamfer is also increasingly required in crankshafts, valve blocks, steering arms, rotational housings, drive elements, injector nozzles and brake cylinders. Whilst the deburring of the entry of the hole hardly causes a problem, exit deburring of drilled holes in many cases involves an extensive operation that is often carried out manually and is time and cost intensive. Here the latest development, the deburring reamer EWR 500, finds its application.
With a multitude of deburring bits Gühring now offers different possibilities to mechanically resolve the complex requirements. This not only means a considerable cost and time saving for the production, but also, more importantly, improved quality and process reliability. Moreover Gühring offers a deburring milling cutter for external deburring to customer's specific application tasks.
The spiral HSS-/HSCO countersink SpyroTec offers universal application in almost all materials, with 60 % lower feed force and 50 % lower radial force. The countersink for a round, precise and chatter-free countersink.
EWR 500 deburring reamer
When deburring with conventional reamers the burr between tool and hole wall is only folded over. The machining process suffers.
In contrast to conventional reamers with the new deburring reamer EWR 500 the burr is process reliably cut. The radially exiting coolant pressure closes the gap on the opposite side between the reamer and the hole wall. The contact pressure enables a clean removal of the burr at the root. The de-burring reamer can also be applied for fits, as the hole wall is not damaged. Position and number of exit holes are adapted depending on the application task. Thanks to several coolant exit holes a permanent contact pressure is ensured. This prevents a pressure drop in the cross hole area.
The surface finish quality of the reamed hole is retained
Short process times as rapid movement is possible outside the cross hole
Flexible diameter range of the deburring tool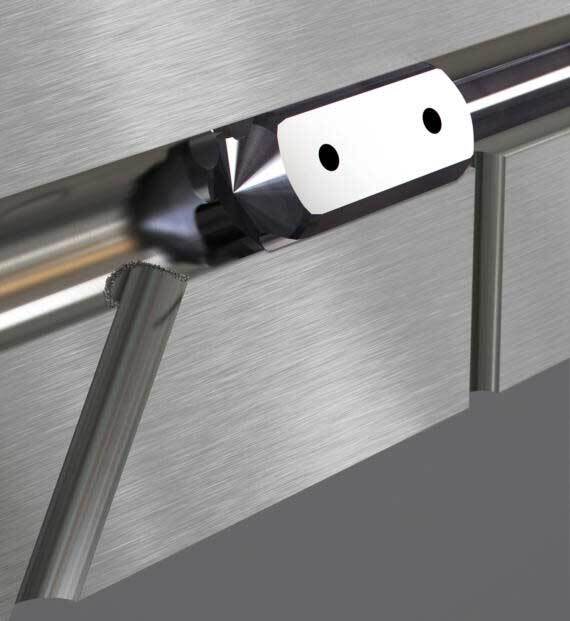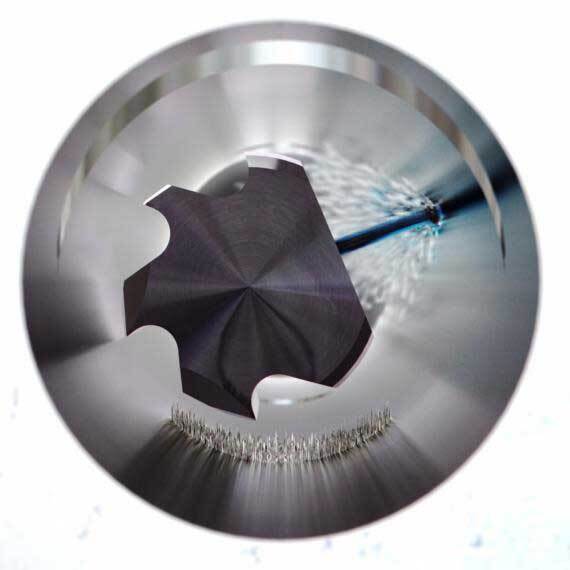 EW 100 G Deburring fork
The automatically internal and external deburring with deburring fork EW 100 G is an easy and cost saving alternative to common, extensive manual operations. Just one tool is required for all machining steps.
Universal tooling for milling, turning and robotic applications
The range of 0.25 mm enables the application of our deburring fork in holes with large tolerances
Deburring fork EW 100 G deburrs automatically with one set-up and short cycle times
The new ex-stock deburring fork machines workpieces with one cross-hole as well as workpieces with multi-interrupted cut and produces high quality deburred faces and ends of the hole.