PCD/PCBN Tools
Efficiency for complex machining tasks
Guhring commenced development and manufacture of PCD- and PCBN-tipped tools over 30 years ago. Since then this business sector is one of the core competences of the Swabian tool manufacturer. 
At the headquarters in Albstadt is the PCD/PCBN main plant, innovative diamond tools are developed and manufactured. Eight further production plants, distributed over three continents, in the USA, Mexico, Great Britain, Poland, Czech Republic, India, China and Korea, guarantee a world-wide service close to the customer. We look after our products during the entire time the PCD and CBN tools are applied. This also includes the on-site support for the user by our technical field service as well as a comprehensive range of services for tool refurbishment. At Guhring, approximately 600 employees develop, manufacture and market innovative PCD/PCBN tools and support the customer from process design to series application.
For manufacture the company relies on the in-house plant and mechanical engineering sector that provides the necessary precision, speed and flexibility to optimally satisfy the user requirements. World-wide uniform standards and machine facilities ensure consistent quality.
Over 500 employees design and manufacture Gühring PCD tools worldwide
Our own R&D ensures the quality of our PCD tools
PCD tools during soldering: Quality made in Germany
High vertical range of manufacture for maximum precision
Manufacturing of a PCBN Tool
Valve ring and guide machining
Innovative PCD fine boring tools
PCD milling cutter with additive SMART CAP solution
Multi-bladed PCD reamers – Special tools for maximum productivity
PCD ISO plates equipped fine boring tools
Lightweight construction tools
PCD countersinks for the machining of fibre composite materials
Innovative technologies for chip-free components
Machining modern composite materials
Clean cut edges – no delamination
The machining of modern materials such as unidirectional, carbon-fibre reinforced plastic is becoming a growing challenge for manufacturers of cutting tools. In order to economically machine the newest generation of these materials efficient high-tech tools are necessary that above all prevent delamination (fibre projections) on the component as well as thermal damage but operate with extreme efficiency at the same time.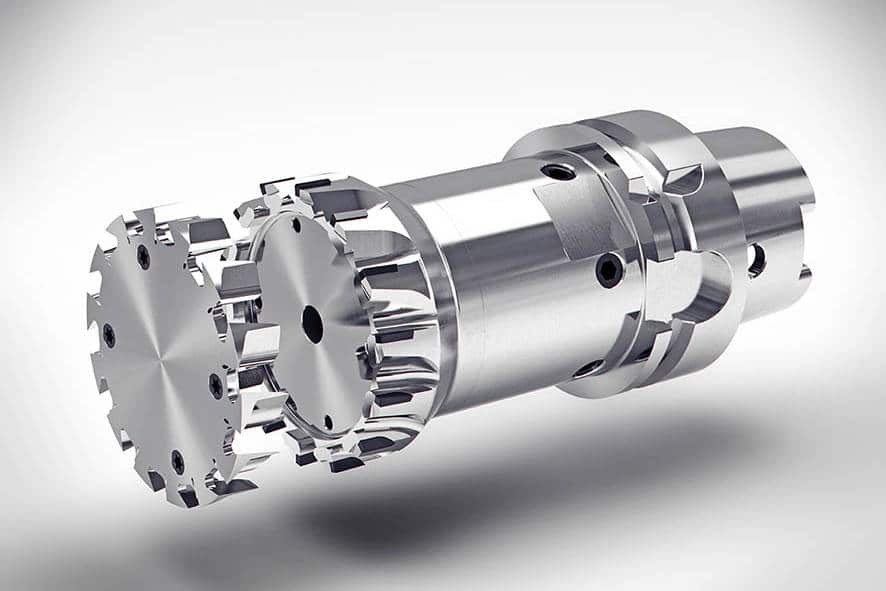 SMART CAP PCD face milling cutter
Cleanliness – process reliability – wear protection
Thanks to exceptional technical details Guhring's SMART CAP PCD face milling cutter enables maximum productivity and energy efficiency for the machining of aluminium. The additive manufactured Smart Cap solution enables defined chip evacuation for maximum process reliability, optimised coolant delivery and a suitable wear protection for the basic body.  
The barrier-free construction enables three-dimensional coolant duct design. Therefore, optimised thermal control of the PCD insert as well as a process reliable chip evacuation can also be ensured with MQL machining. The application of firmly brazed PCD inserts in combination with the Smart Cap solution furthermore provides simple handling for the user. The Smart Cap PCD face milling cutter is available from diameter 32mm to diameter 125mm, hereby 8 to 22 PCD inserts are applied for maximum productivity.