PCD/PCBN Tools
Product highlights from the PCD/PCBN sector

PCD FACE MILLING CUTTER SMART CAP PF 3000 G
 Cleanliness-process reliability-wear protection
The SMART CAP PCD milling cutter from Gühring ensures highest productivity and energy efficiency in aluminium processing thanks to its extraordinary technical details. The additive-manufactured Smart Cap solution enables defined chip evacuation, optimised coolant supply and wear protection for the base body.
A barrier-free design enables three-dimensional cooling ducts for the PCD tools. This ensures optimised temperature control of the PCD cutting edges and reliable chip removal even during MQL machining. The use of brazed PCD cutting edges combined with the Smart Cap solution also enables simple handling for the user. The Smart Cap PCD face milling cutter is available from diameter 32mm to diameter 80mm, using 8 to 16 PCD cutting edges for maximum productivity.

INNOVATIVE & SMART
Additive-manufactured PF3000G with Smart Cap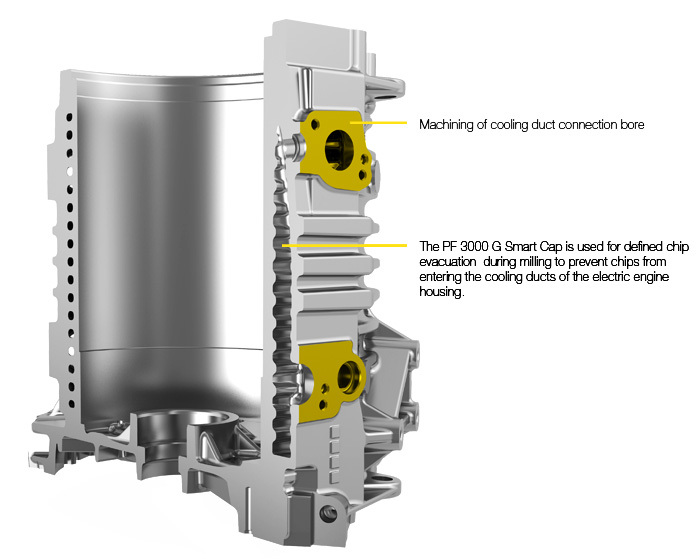 Fine boring tools for the automotive industry
 CYLINDER HEAD MACHINING – VALVE DRIVE
Valve seat and valve guide machining is the most cost-intensive machining task on the cylinder head. The valves control the load cycle by opening and closing the air inlet and exhaust outlet ducts. For optimum sealing of the valve disc to the valve seat ring, tight shape and position tolerances must be adhered to. Abrasive material also causes a high wear factor. The tool costs are therefore generally very high, during main times as well as downtimes.
 PCBN FINE BORING TOOLS WITH SMART SETTING SYSTEM GP 300
Smart Setting System GP 300 with separate indexable insert clamp features integrated fine adjustment for μm-accurate and quick configuration of the precision-ground PCBN cutting edges. Due to the separate tensioning of the indexable insert and clamping holder, there is no need to repeat clamping holder configuration when changing an insert. The 6-fluted machining in the valve guide means that higher machining parameters can be achieved and tight tolerances are maintained at the same time. With the triangular T-insert, only one cutting edge is used for valve ring machining, the remaining cutting edges are protected inside the tool.

PRECISE & EASY
Reduced set-up effort for valve guide and valve seat machining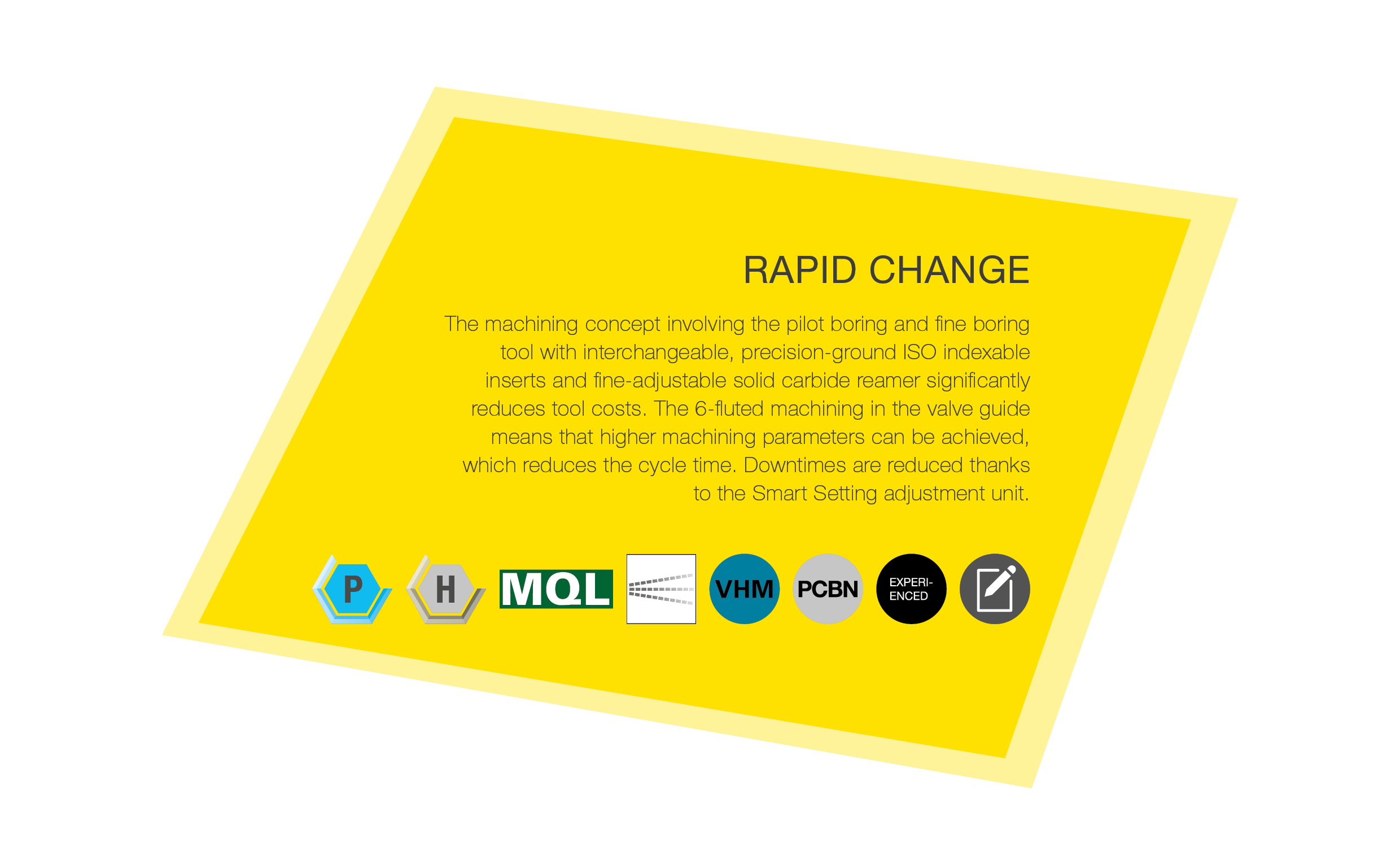 PCD countersinks
Machining of modern composite materials
They are lightweight, exceptionally strong and can be adapted to a wide range of applications: Modern fibre-reinforced plastics (FRP) are popular in industry. Particularly high standards of quality must be met when these materials are machined on the edges of components. Fibre protrusion, delamination, chipping and thermal damage often occur in these areas. Typical quality problems like these can be avoided by creating the ideal balance between tool geometries, cutting material, process parameters, cooling and clamping of the components. With the right tool, precise and clean component edges can be created even with riveted countersinks.
 PCD COUNTERSINK FOR PERFECT EDGES
The countersink consists of a steel body, equipped with either two or three PCD cutters. This cutting material has cutting edges that remain sharp for a long time and can be reground when they reach the end of their service life – a particularly economical solution. When using the countersink, pre-drilled holes are used as pilot holes. Both fixed and interchangeable guide pins are available. The tool is especially suitable for manual drilling jobs. The customer uses a cage to adjust the countersinking depth. However, versions are also available for drill feed units or CNC machines.

STRONG & MODERN
Machining of modern composite materials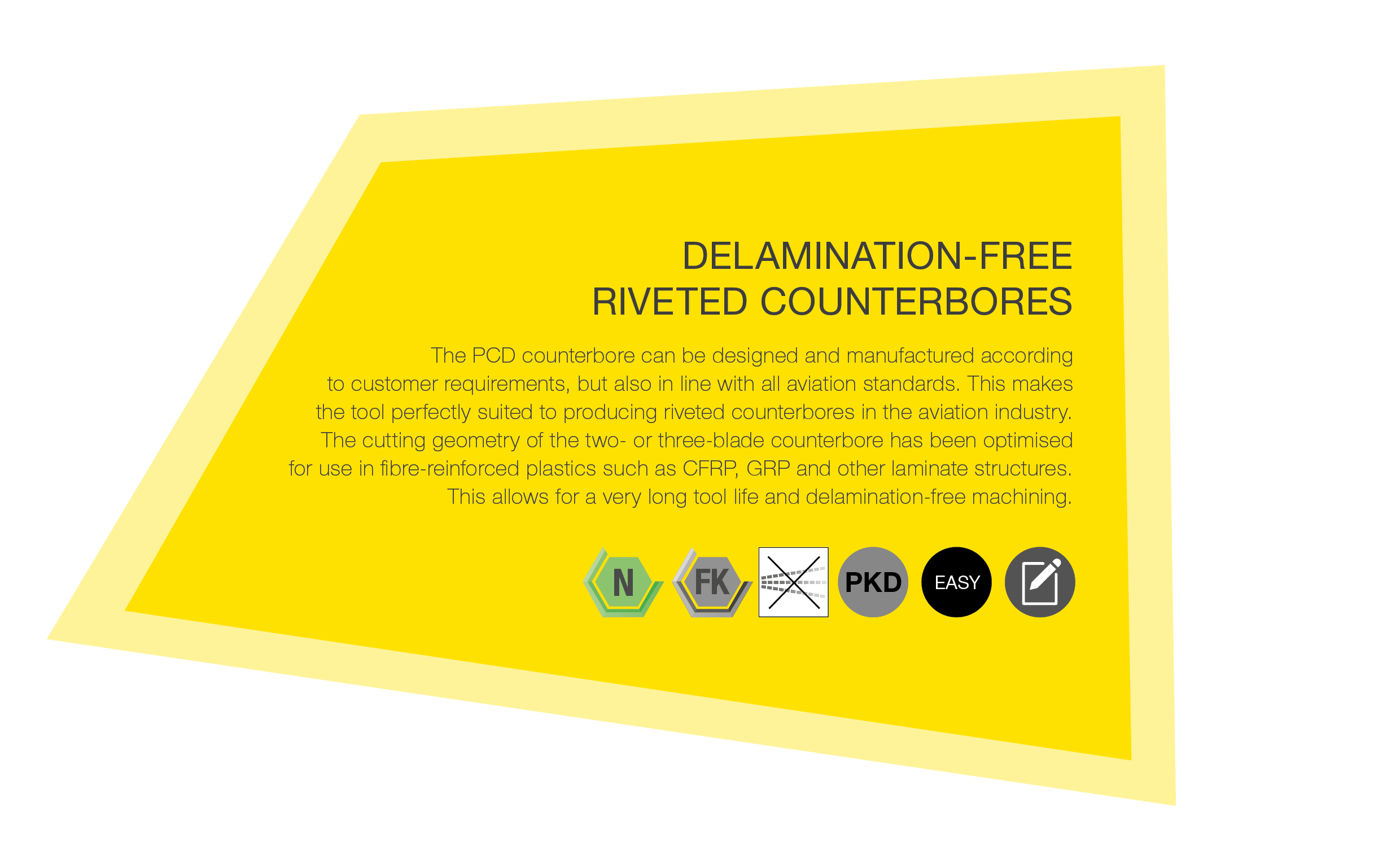 PCD COMPRESSION MILLING CUTTER
 Modern composite materials
Modern fiber-reinforced plastics (FRP) are currently finding their way into a wide range of industrial applications for reasons of efficiency, weight, strength or dynamics. When machining these materials, great importance is attached to the quality of the component edges. Typical quality problems here are fibre overhangs, delamination, splintering and thermal damage. To avoid these problems, tool geometries, cutting material, process parameters, cooling and clamping of the components must be coordinated. Even with fibre composite combinations that are difficult to machine, fibre-free edges can be produced with the compression milling cutter.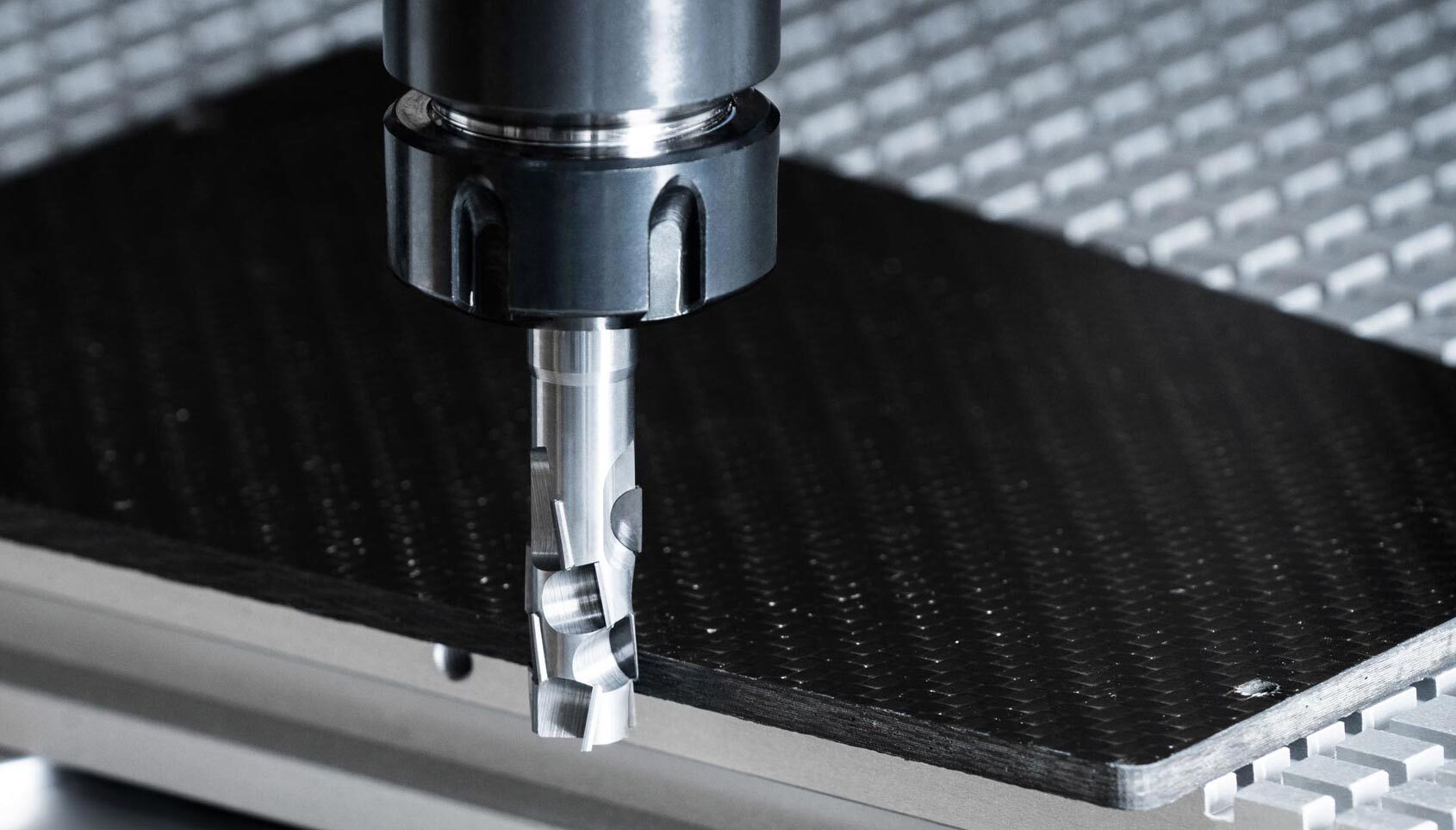 PCD tools in Tube design
Intake manifold machining – Exhaust gas recirculation valve
Fresh air from the air filter and recirculated exhaust air from the intake valves enter the combustion chamber through the intake manifold. An exhaust gas recirculation valve controls how much exhaust gas is returned to the combustion process. This reduces the vehicle's emissions. Machining the connection bore in the exhaust gas recirculation valve is particularly challenging. This is a through-hole with several diameters and also a heavily interrupted cut.
Cylinder head machining – Sealing hole
The sealing hole or water plug hole connects the cooling water circuit in the cylinder head. A sealing plug is then pressed into this bore or a further component is excluded from the circuit.
Objective: Chip-free machining
Both machining operations entail the risk that chips could get into cavities in the components. Removing these chips increases processing time and costs. If chips remain in the component after cleaning, this also has fatal consequences: The chips could impede the combustion process or even cause mechanical damage. The aim was to develop a tool adapted to these machining operations, ensuring safe chip removal from the machining zone.
PCD tools for low-chipping
Two different production variants are used for the tools in tube design:
Variant 1: The tubular tool head is produced using additive manufacturing methods and then screwed onto an HSK alignment adapter. This creates a modular, replaceable tool.
Variant 2: In the monobloc variant, the tubular tool head is also produced using additive manufacturing methods and permanently connected to the conventional base body.
However, both variants have the same characteristics. Therefore, the segment base and the internal three-dimensional coolant guides are produced using 3D printing. Backward-facing cooling channels support the defined chip removal. The chips emerge through two lateral openings at a sufficient distance from the component.
The decision on which variant to use in which case depends on various factors. This includes, for example, the length-diameter ratio in the machining job. The tool with the completely additively manufactured tool head is particularly suitable for machining smaller diameters. The second variant is used for machining larger hole diameters and long protruding tools.
Read more about the application of tube design here.

INNOVATIVE & SMART
 Tube design tool produced using additive manufacturing methods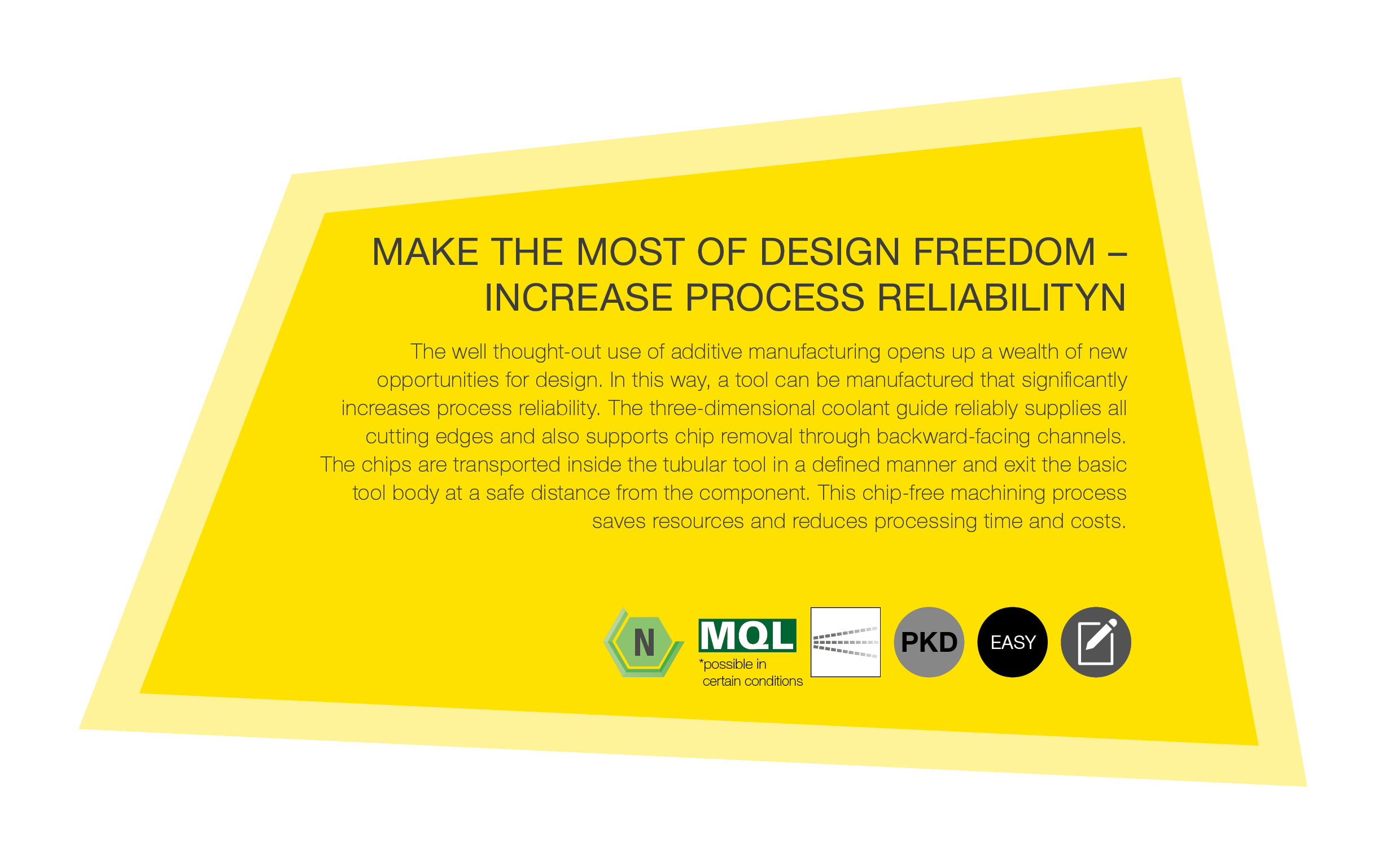 MANUFACTURER KNOW-HOW
The PCD and PCBN division has been one of the core competences of the Swabian tool manufacturer for over 40 years.
SERVICE
Our service extends far beyond the production of our tools. We will offer you support for the entire service life of your tools, if you wish. Extensive services and after sales support such as tool management and reprocessing of the tools.
TAILOR-MADE SOLUTIONS
95% of PCD/PCBN tools are designed as special tools in close cooperation with our customers.
WE ARE THERE FOR YOU
We are nearby, everywhere all over the world. On all continents, in almost 50 countries and in over 70 locations.
Gühring PCD-/PCBN plants worldwide on site for you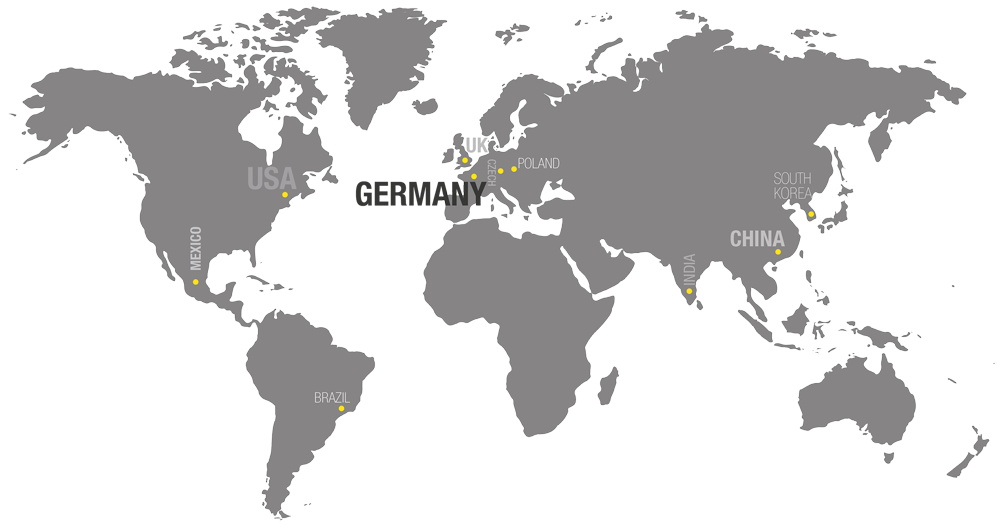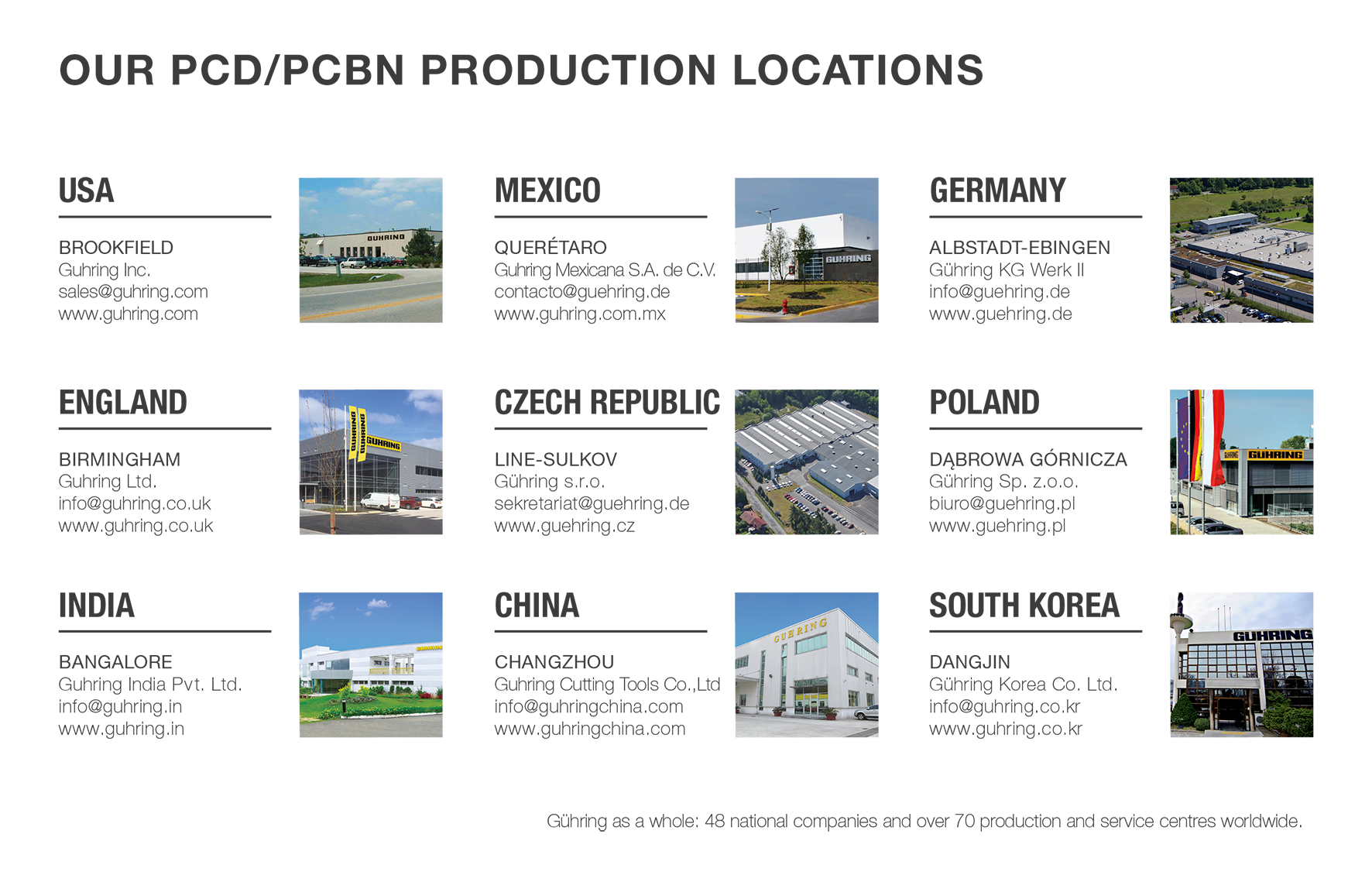 Gühring Online Academy – get even deeper insights into the world of Gühring PCD-/PCBN


As a leading tool manufacturer, Gühring offers a digital learning world with a comprehensive portfolio of training materials. Exciting, varied learning formats not only impart basic knowledge, but also provide the latest product information, underlining the appeal of the learning offer. Practical examples and interactive exercises clearly explain complex topics using high-quality videos and animations. The materials are available to you around the clock, so you can continue to educate yourself whenever you want and increase your skills step by step.