Reamers
Perfect reaming in all diameters: ExclusiveLine HR 500 carbide reamer bit
With the HR 500 high-performance carbide reamer bit you will find the ideal tooling solution for all diameters from 2.97 to 76.2 mm. To always be able to apply the optimal HR 500 high-performance reamer there is a choice of various HR 500 types.
Solid carbide reamers up to diameter 38.00 mm
Carbide- and cermet-tipped reamers up to diameter 76.2 mm
Solid carbide reamers for intermediate dimensions and stepped tools in  HR 500 Active programme
HR 500 – high-performance reamer tools
HR500 CAST reamer tool – new solution for the perfect machining of cast iron
Power reamer bit HR 500 CAST
---
As special tool for the machining of GGG

Gühring's high-performance reamer HR 500 CAST reamer bit is now available as an option especially for the machining of GGG. The special tools based on the HR 500 CAST high-performance reamer tool offers entirely new possibilities for highly efficient reaming of GGG.
Now it's also possible in GGG to achieve surface finish qualities below Ra 1.2. The solid carbide option of HR 500 GGG gives the power reamer a high stability and rigidity against torsion and radial forces. As is usual with the high-performance reamer HR 500 a very long tool life and high cutting values are possible also when machining GGG.
The new HR 500 CAST reaming bit for the machining of GGG achieves cutting speeds from 120 to 250 m/min, extremely high feed rates and surface finish qualities below Ra 1.2 – naturally with maximum process reliability and high hole quality.
The HR 500 CAST GGG option achieves these outstanding values thanks to its grey cast iron geometry and Gühring's extremely hard Signum-coating. This combination prevents built-up edges and premature circular land wear: Typical wear factors when machining cast iron are hereby with averted.
HR 500 GT high-performance reamers
---
Top performance above Ø 40.00 mm

Also with diameters above 40.00 mm the Gühring HR 500 technology is the first choice for high-performance reaming. Numerous intelligent solutions ensure maximum cutting values and quality also with large diameters:
Diversity for perfect machining results
HR 500 GT reamer  tool heads are available as a semi-standard range with short delivery times in the diameter range > 40.0 to 76.2 mm in the following material specific designs:
Carbide-tipped with nanoA-coating for stainless steels, GGG 60, GG, special alloys and non-ferrous metals
Carbide-tipped with Signum-coating when demands are high on surface finish quality, for GG and GGG 60
Cermet-tipped for steels and GGG 40/50
Furthermore, we manufacture special tools to customer specific specifications on request.
Optimal cooling lubrication
Thanks to the newly developed, patent pending, redirection screw on the face side of HR 500 GT tool heads, the cooling lubricant reliably reaches the cutting edges. A blocking of the coolant exits by the chips is not possible. Thanks to the especially flat design of the redirection screw the machining of blind holes is possible directly up to the base of the hole.
If required the redirection screw can be removed when machining a blind hole.
EXCLUSIVE Line: HR 500 T carbide reamer
---
With HR 500 T carbide reamer Gühring provides a solid carbide head reamer from 16 to 39.1 mm diameter

With the HR 500 T carbide reamer the successful solid carbide HR 500 option is extended to diameter 39.1 mm. Thanks to the short, compact solution economically efficient production is ensured. Nevertheless it is possible to fall back on the diverse possibilities of HR 500.
Thanks to the universal HA shank it is possible to flexibly combine HR 500 T with standard chucks and numerous extensions. Thanks to this significant advantage expensive special holders are not necessary. This enables a cost-efficient and a very high quality reaming operation.
An overview of your advantages
High-performance reamer ensures especially economically efficient production
flexible holder possibilities thanks to HA shank
simple extension with shrink fit extension or with hydraulic chuck
Universal, cast iron or aluminium option
3 Options


The standard option for universal application is NanoA-coated
The cast option with Signum-coating for application in GG and GGG is available as a special solution
With the carbo-coated special solution for the application in aluminium it is possible to machine aluminium wrought alloys or AlSi cast-alloys
Various extension possibilities
Extension possibility hydraulic chuck – adjustable reamer HR 500 T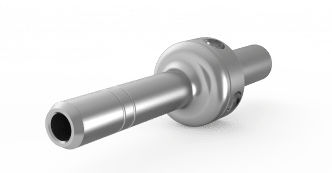 For the application with large reaming depths and for the simple bridging of many bores HR 500 T can be combined with numerous extensions
Where a slender holder is required and shrink fitting is not possible, Gühring provides the new hydraulic chuck from clamping-Ø 10 mm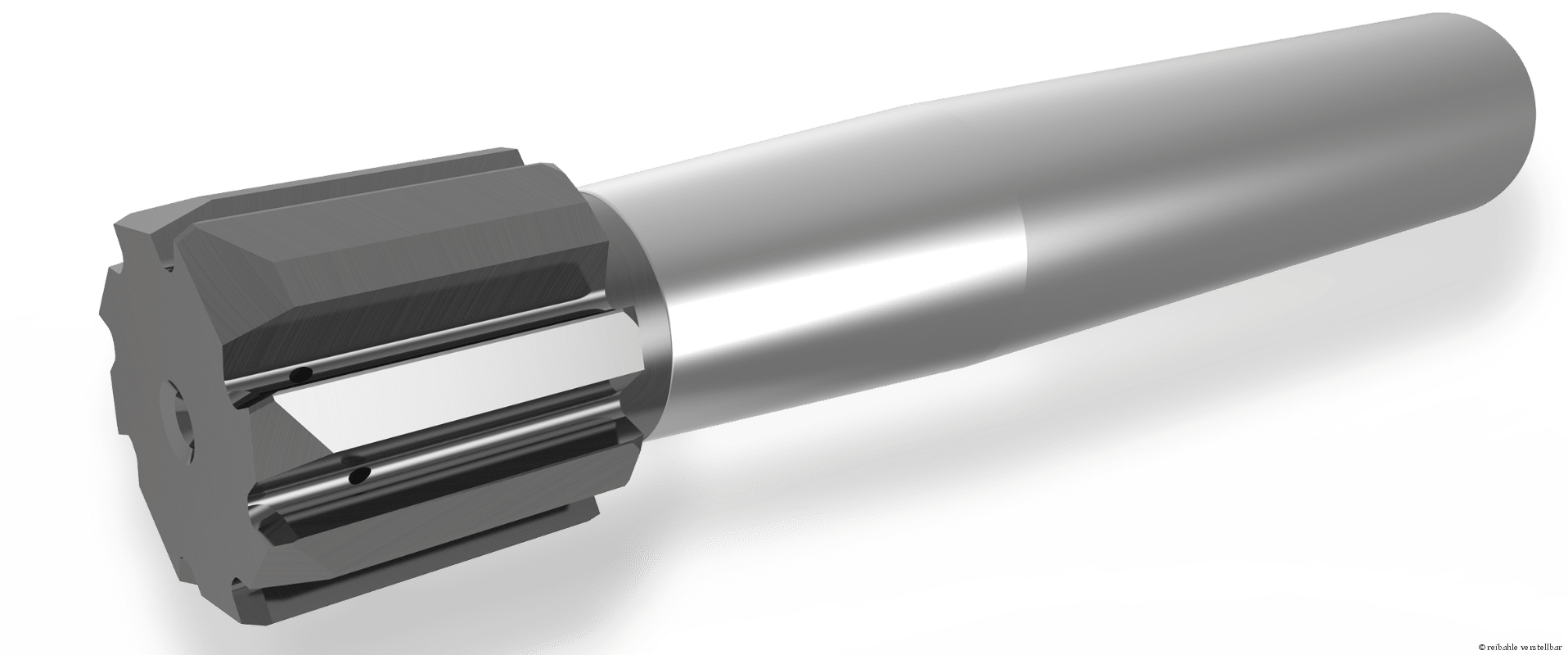 Blind hole option
with central coolant duct exit

Through hole option
with radial coolant delivery
Flexible combination possibilities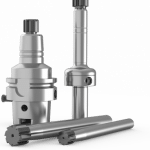 Thanks to the standardised shank to DIN 6535-HA, with short reaming depths HR 500 T can be clamped in conventional hydraulic chucks, shrink fit chucks or other concentricity accurate clamping chucks