High performance drill RT 100 XF
Tough. Extreme. Powerful.
120 years of manufacturing expertise, innovation and synergy: These are the pillars of our success that have allowed Gühring, once a pioneer of drilling solutions, to develop into an industry-leading full-service provider. This was made possible by our own R&D departments in geometry, production and coating, the production of proprietary carbide, as well as grinding and coating systems. These elements find their way into the performance of our products, enabling us to continually set new standards for the industry.
This leading expertise serves as the basis for the new high performance drill RT 100 XF. Exceptional performance and a qualitative advantage. With unbridled power and guaranteed outstanding results for your processes.
Proprietary carbide XF and nanoFire coating
Extremely hard, absolutely break-proof. The carbide, which has been specially developed for the RT 100 XF, performs a balancing act between hardness and toughness through the unique combination of tungsten carbide and cobalt. The special structure of this unique composite cutting material has a re-sharpening effect. Major breakages that normally accelerate tool wear no longer occur. In addition to titanium and nitrogen, the tried-and-tested nanoFire coating also contains aluminium and is characterised by a high level of hardness and good thermochemical resistance. The nanoFire for the RT 100 XF has been further developed by coating systems and coatings of our own R&D department thanks to specially designed pre-treatment and post-treatment processes. This surface treatment smooths the coating and makes it significantly more robust.
Your benefits:
Combined optimisation of all tool parameters enables outstanding feed rates and exceptional metal removal rates
In-house high-end finishing for maximum performance utilisation
Reduced cycle times for difficult-to-machine materials and special applications in series production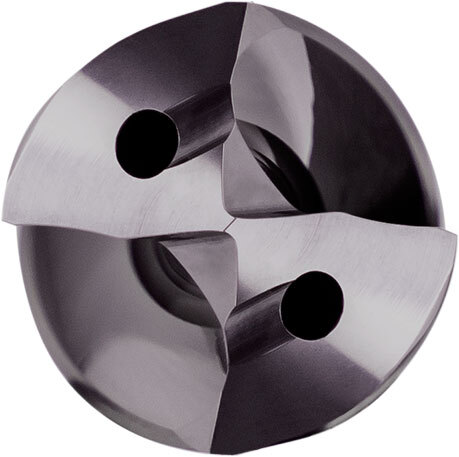 Geometry and micro-geometry
Four guide chamfers grip extremely early, thus perfecting the coaxiality, ensuring perfect bore quality, improving straightness and surface finish – and are therefore standard on the high performance drill RT 100 XF from 5xD upwards. The third and fourth support chamfers trim the borehole for a perfect smoothing effect. Polished flutes reduce the heat input into the component. The chip flows off faster; thermal changes such as hardening of the edge zone are avoided. The point geometry, protected by a negative chamfer along the side cutting edge, makes the cutting edge ultra-robust and durable. For exceptional performance. The micro-geometry in the form of cutting edge rounding also reduces chipping. This produces a stable and efficient cutting edge. The accurate reproducibility (to the nearest micrometre) is made possible by our expert manufacturing processes. Original quality is restored in the in-house regrinding and re-coating centres.