Milling is one of the most varied production processes in metalworking. The process creates precise, complex components that are used in many areas. Gühring provides suitable milling tools for machining different materials depending on the application. The range extends from all-rounders to specialist tools, from conventional roughing cutters to modern HPC/HSC strategies such as dynamic trochoidal milling (GTC) or iMachining (SolidCAM). Different cutting materials are also used for the milling cutters.
To our product highlights
Milling definition
Milling is a machining production process with geometrically determined cutting edges and interrupted cutting. The aim of milling is to produce defined workpieces. Milling tools have one or more cutting edges and enable both vertical, horizontal and oblique machining of the materials to the rotational axis.
How does milling work?
A cutter continuously removes material from a blank in the form of chips. In contrast to a drill, which only cuts at the tip (main cutting edge), the milling cutter cuts on the circumference, the main cutting edge, the secondary cutting edge and at the end face. This allows the cutter to simultaneously process materials in different directions, also known as axes. During chip removal, the tools rotate around their own axis at high speed and simultaneously move according to the contour to be produced. The shape of the workpiece is therefore the result of the infeed width (ae) and the infeed depth (ap).

Milling strategies
A distinction is made between the following applications for milling cutters:

Slotting is used to create elongated recesses which optionally pass through the material as an elongated hole or do not completely penetrate as a keyway, for example. This milling process is particularly demanding because the tools are fully enclosed by the material at 180 degrees.

The roughing cutter cuts as much material as possible from the workpiece in the shortest possible time with large infeeds. This creates a rough surface.

Finishing creates a good surface, an exact dimension and an exact angle with low infeeds.

During ramping, the cutter plunges into the materials obliquely. Slots, pockets or other shapes are then milled into the component. This plunging strategy creates elongated cavities.
During helical plunging, the tools move into the component in a spiral. A circular pocket larger than the tool diameter is created.
During drilling, the cutter plunges into the material like a drill.
Copy milling is carried out with a radius cutters. A distinction is made here between full-radius and corner-radius milling cutters, also known as Torus cutters. This allows complex shapes to be processed.
Angle on the cutter
Like the main cutting edge, the rake angle is located on the circumference on the milling tool. The rake angle is between minus 15 and plus 25 degrees depending on the materials to be machined. Tools with a positive rake angle cut the material with a soft cut and create a flowing chip. Tools with a negative rake angle create a scraping cut. Large rake angles of 10 to 25 degrees produce a sharp cutting edge and are suitable for milling very soft and sticky materials. The clearance angle is produced in two variants: With radial relief grinding, it produces a very quiet cutting behaviour and a stable cutting edge, which is why it is suitable for machining stainless and heat-resistant steels, for example. The clearance angle with facet cut produces a sharp to aggressive cutting behaviour.
Milling tools are also designed with different helix angles – from zero to 55 degrees. The smaller the helix angle, the fewer contact points are created between the tool and the workpiece. Tools with a smaller helix angle therefore only achieve a low level of smoothness and are more suitable for roughing. Tools with a larger helix angle impress with their smoother running and are used for finishing.
Would you like to find out more about milling and the milling tools from Gühring?
In the Gühring Academy we provide you with comprehensive knowledge from the world of metal machining. The online learning modules are practical and interactive and can be accessed online 24/7.
Face milling and peripheral milling
In principle, we differentiate between circumferential milling and face milling. During face milling, the cutting edges on the face of the milling tools are responsible for chip removal. In this case, the tool is perpendicular to the machining plane. In peripheral milling, the tool axis is transverse to the workpiece. This means that the cutting movement takes place on the circumference of the tool.
Synchronous milling and upcut milling
During upcut milling, the cutter rotates against the feed direction of the workpiece. This creates a thickening chip, and the effort increases significantly from the entry of the cutting edge to the exit. During synchronous milling, the cutting edge rotates in the feed direction of the workpiece.
As a result, the force is highest when the cutting edge enters. Synchronous milling is preferable due to the longer tool life and better surfaces on the component. In the following, a direct comparison is made between synchronous milling and upcut milling.
Milling metal
Milling tools can be used to machine components made of metal, plastic and wood. Cutting materials and geometries must be matched to the materials to be processed and the production process in order to achieve optimal results and a long tool life.
Metal milling tools overview
In metalworking, a distinction is made between solid milling tools or end mills and carrier tools. Carrier tools are milling cutters with exchangeable indexable inserts. They can be converted to other milling processes in just a few simple steps. In the case of end mills, the cutting edge and the shank are made from a single piece. Each tool is designed for a specific task and can therefore only be used for this specific process. Here is an overview of the most commonly used cutter types:
| Cutter type | Application |
| --- | --- |
| Square shoulder milling cutters and deburrers | With square shoulder milling, two surfaces can be machined simultaneously. This creates flat shoulders with "real" 90° angles. |
| Face milling cutter | Face milling cutters are used to mill flat surfaces, usually with an adjustment angle of 45°. |
| Cutting bur | These disc-shaped tools have a particularly narrow diameter and are used for the precise cutting of workpiece parts. |
| Contour milling cutter | Contour milling cutters are suitable for milling complex 3D contours with a few milling paths and precisely defined paths. |
| Slot cutter | Slotting cutters are used to create slots and recesses in components. Workpieces can be connected to each other via slots. |
| Chamfer cutter | Edges on workpieces can be broken with a chamfer cutter. |
| Gear milling cutter | These include cylindrical cutters or gear cutters, which can be used to produce all types of teeth. |
| Thread milling cutter | Thread milling cutters are used to produce dimensionally stable internal and external threads. |
| Countersink | These tapered milling cutters enable countersinks to be created, for example for screw heads with different angles. |
CNC milling: What is CNC milling?
CNC machine tools are used for milling in the metalworking industry in particular. This state-of-the-art control technology enables automated and therefore cost-effective production of workpieces with high precision. The machine uses Computerised Numerical Control (CNC) technology and initially designs the desired workpiece using a CAD program. A CAM system then provides this model with parameters such as speed, feed rate or cutting depth and transfers them to the CNC software. Series production is particularly economical on CNC milling machines because cutting speeds of up to 18,000 revolutions per minute can be achieved, and even over 50,000 revolutions per minute on high-speed machines.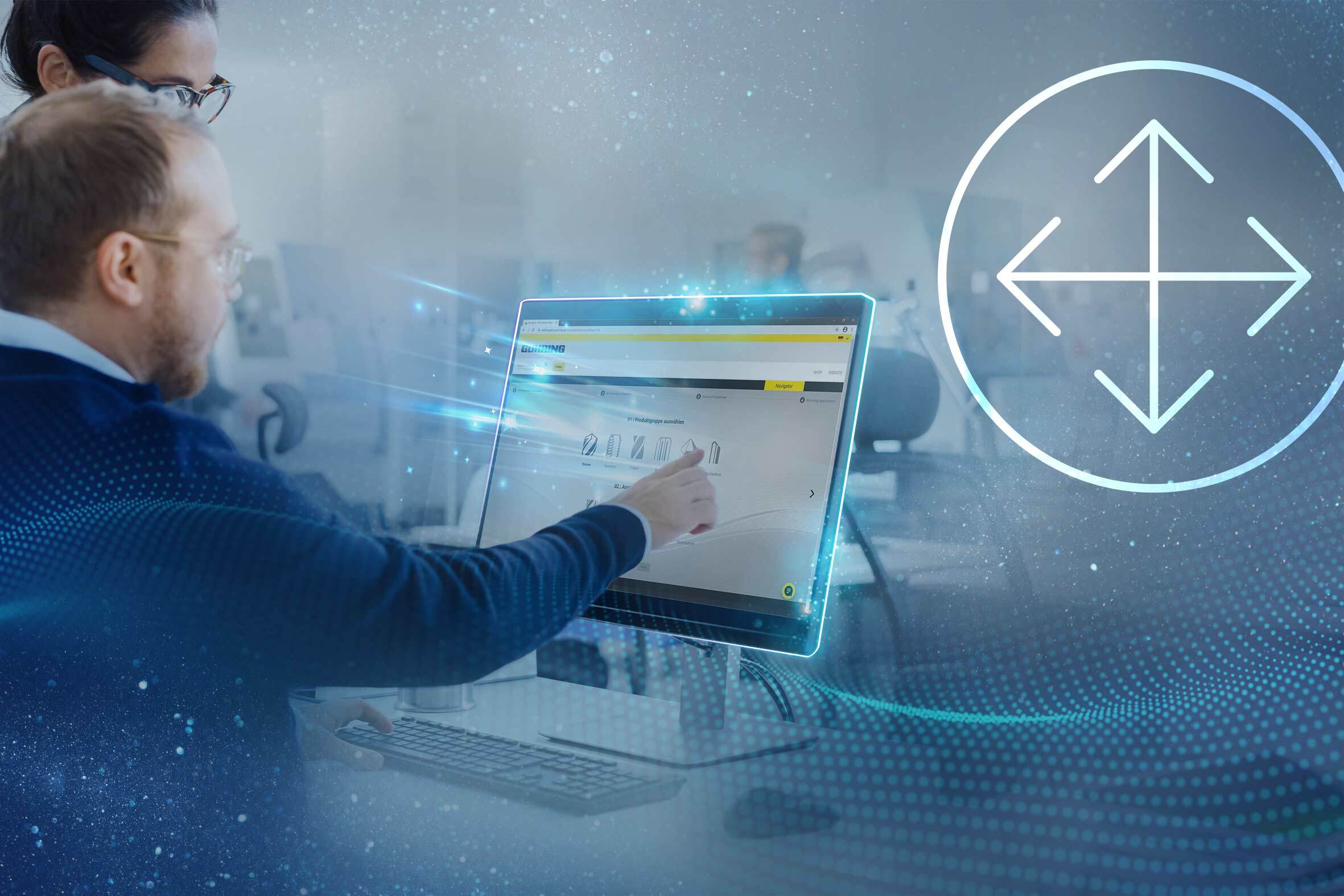 Navigator
Helping you find the ideal product: The Navigator guides you to the best tool for your application
How do you find the right solution for your specific application from among 100,000 Gühring tools? It is easy, fast and convenient – with our "Gühring Navigator". The intuitive product finder guides you to the ideal tool solution and associated cutting data.
 Select product group and application
Enter dimensions
Specify material and strength
Select tool
End mill
End mill definition: What is an end mill?
With an end mill, the cutting face and clamping face are made from a single piece. The integrated shank is clamped into the receiver of the machine. The design of the clamping shank can be cylindrical or conical. End mills come in many different designs and are suitable for producing slots, grooves, pockets, recesses, dies and hollow shapes. Gühring offers various products in the end mill segment, such as roughing and finishing cutters.

End mill designation
End mills with cylindrical shanks are defined in the ISO standard DIN 844. The standard contains information on dimensions, cutting materials, designs and identification of the tools. DIN 845 specifies the requirements for end mills with Morse taper shank.
End mill carbide
End mills for metalworking can be made of different cutting materials. High-speed steel (HSS) and solid carbide (SC) are common.
Universal or high-performance solid carbide milling cutters are used on modern CNC machines. They are particularly suitable for series production. High processing speeds make them extremely powerful. They also achieve a long service life as well as cutting depths and cutting widths. All in all, they therefore offer a high level of efficiency. Disadvantages of solid carbide milling cutters include the relatively high purchase price. They are also not suitable for production processes with unstable machine conditions.
End mill HSS
HSS milling cutters are made of high-speed steel. The main advantage of HSS milling cutters over solid carbide milling cutters is their lower purchase price. The disadvantages, on the other hand, are the low processing speed and short service life. HSS and HSS-E milling cutters are therefore rarely used in series production.
End mill aluminium
Aluminium has a low weight and high conductivity, which makes it a popular material in the electrical industry, for example. However, milling aluminium is a very demanding process, because the material softens due to the heat generated during milling and the chips stick to the cutting edges of the milling tools. A single tooth cutter is best suited for machining aluminium, as the risk of chips "sticking" is lowest with this solution. Double tooth and multi tooth cutters can also be used for medium-hard aluminium alloys. Learn more about end mills for aluminium machining here.
Why do end mills have spiral flutes?
In most cases, end mills with flutes arranged in a spiral shape are used for metalworking. This offers several advantages: The spiral flute ensures a uniform cut, uniform cutting force and smoother running of the machine. Chips are also removed to the side and do not enter the bore.
Overview of end mill diameters
Gühring's portfolio includes many common milling cutter dimensions, such as:
End mill 2 mm
Gühring offer four-flute solid carbide end mills with a nominal diameter of 2 mm. Different coatings are possible here.
Micro milling cutters are available from 0.3-3.2 mm.
End mill 6 mm
The Gühring end mill made of solid carbide with 6 mm diameter and AlCrN coating is a new addition to the tool portfolio.
End mill 12mm
Large diameters are mainly used for high-performance milling because they can achieve higher machining volumes. Gühring offers solid carbide end mills with diameters of 12 to 32 mm.
End mill extra long
Gühring offers the XL end mill series for machining that requires extra-long milling cutters. These have a total length of up to 150 mm.
Our product highlights Solid carbide end mills
Solid carbide end mill RF 100 U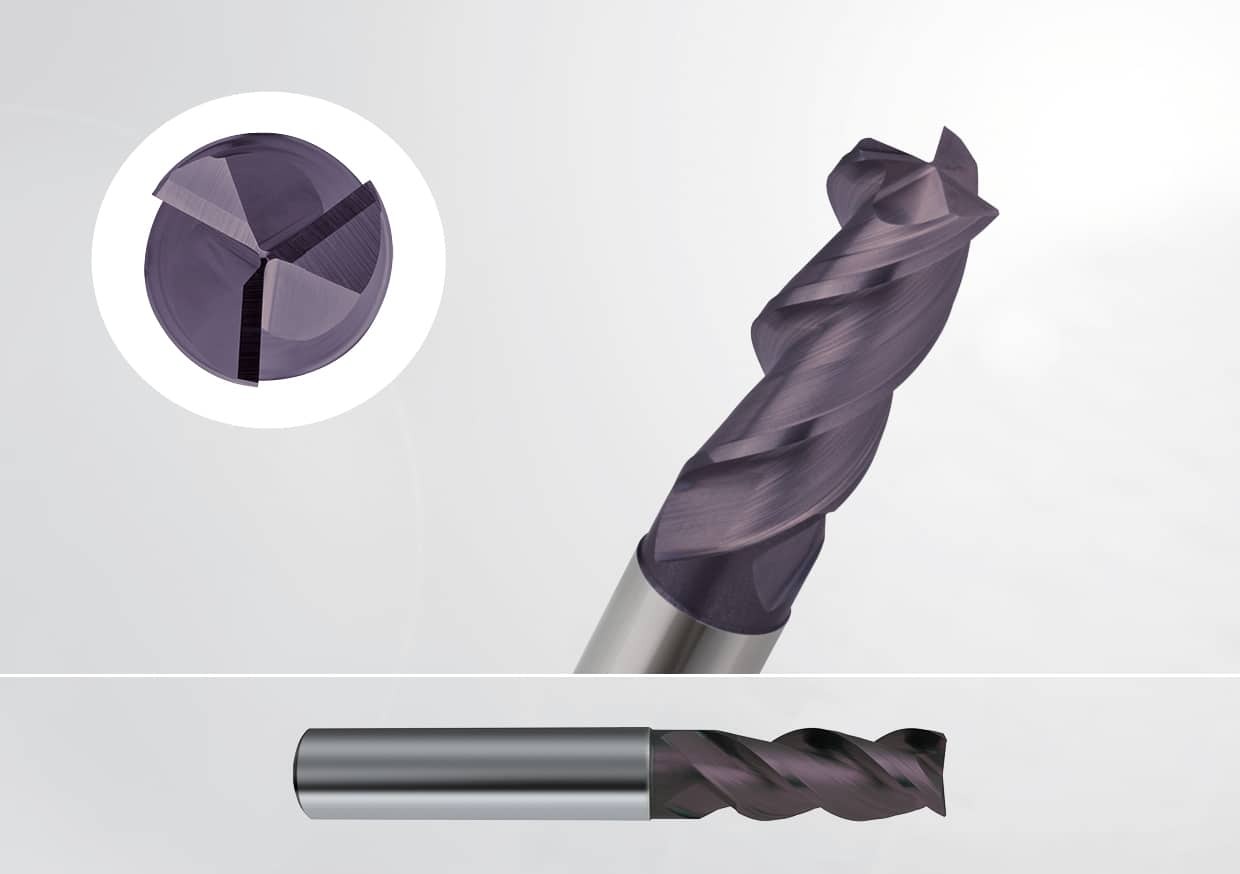 Solid carbide milling cutter RF 100 U – Our expert in steel and cast iron
Steel, cast iron and hardened steel with tensile strengths of up to 1,400 N/mm² are no problem for the RF 100 U. Due to its unequal spiral angle, the Ratio 3 cutter creates a particularly easy cut even with large feeds.
Your advantages with the RF 100 U:
Optimisation of all tool parameters for extreme feeds and incredible material removal rates
Maximum performance utilisation thanks to in-house high-end finishing
Shortening of cycle times in series production, even for materials that are difficult to machine
Solid carbide end mill RF 100 Diver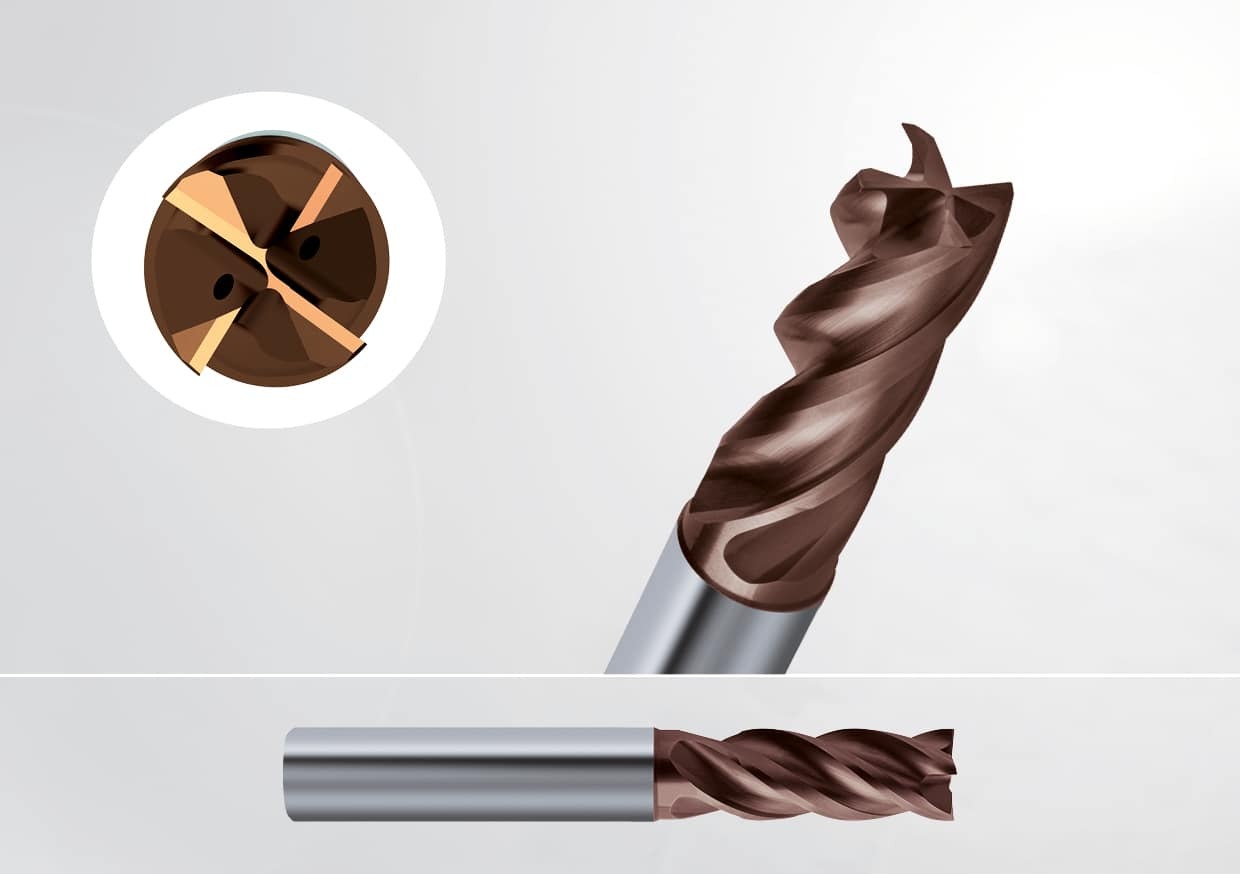 Solid carbide milling cutter RF 100 Diver – The plunge milling cutter for 5 milling operations
The RF 100 Diver has established itself for customers with high flexibility requirements, because it covers five operations at once. The tool has an innovative coolant supply that perfectly cools and protects both the face and peripheral geometry during drilling and plunging.
Your advantages with the RF 100 Diver:
Up to 40 percent longer tool life thanks to innovative cooling technology
For all materials, particularly sticky, stainless and heat-resistant materials
Special ultra-fine grain for maximum efficiency and tool stability
Find out more at: RF 100 Diver
RF 100 Diver in the online shop
Solid carbide end mill RF 100 Sharp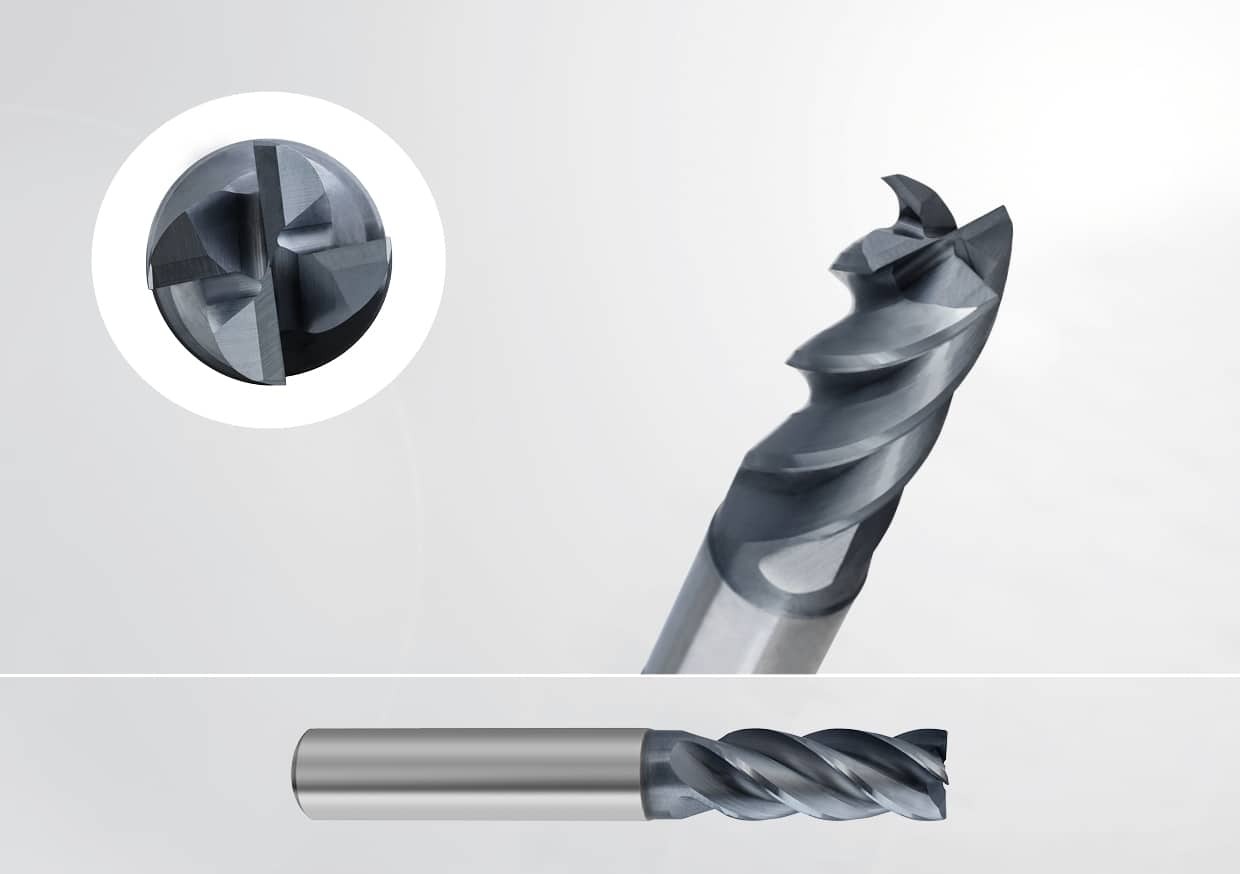 Solid carbide milling cutter RF 100 Sharp – Our sharpest solid carbide milling cutter
The RF 100 Sharp solves all these problems: Chip jamming when milling soft and tough materials, difficult machine conditions and slow cutting speeds. The solid carbide milling cutter offers extremely high cutting speeds and metal removal rates.
Your advantages with the RF 100 Sharp:
High performance in soft-tough and high-alloy materials
Reduction of cutting pressure and cutting forces
High wear protection thanks to AlCrN layer
Find out more at: RF 100 Sharp
RF 100 Sharp in the online shop
Solid carbide end mill RF 100 Speed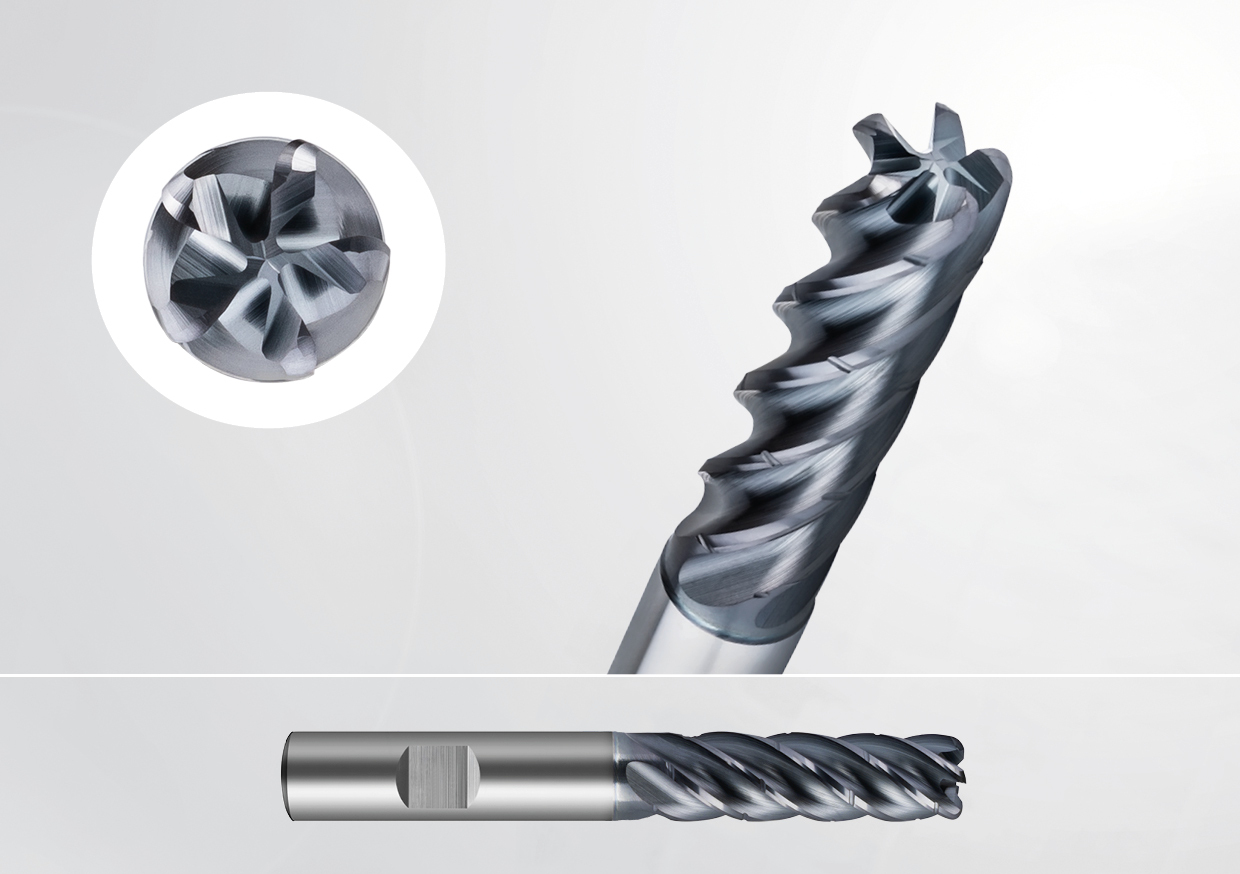 Solid carbide milling cutter RF 100 Speed – The tool for the highest cutting parameters
The RF 100 Speed is the fastest Ratio cutter in our range. Especially when machining extremely tough materials, the solid carbide milling cutter can be used to achieve high machining volumes with stable process reliability.
Your advantages with the RF 100 Speed:
High-performance roughing even at high cutting depths
Quiet performance and high chip volume
Universal GTC milling in a wide range of steels and cast irons, stainless steels as well as special alloys
Find out more at: RF 100 Speed
RF 100 Speed in the online shop
Roughing cutter
End mills with a roughing profile are usually used for roughing. A high infeed width and depth should remove as much material as possible in the shortest possible time. This rough pre-machining produces a rough surface with visible machining marks. As a rule, the workpiece is finish machined afterwards. Learn more about our roughing cutters here.
Roughing cutters vs. finishing cutters
Finishing often follows roughing, with the aim of improving surface quality as well as dimensional and shape accuracy. In this milling process, smaller quantities of material are generally removed from the workpiece, usually only a few centimetres. Cutting with the finishing cutter produces larger chips, which must be removed from the work area using compressed air or cooling lubricant. An end mill with a roughing profile also generates lower cutting forces compared to a smooth-edged finishing cutter and therefore requires less drive power. Finishing cutters unleash their potential in particular in vibration-free machining on stable, high-performance machines with maximum machining volume, short unclamping and good cooling. Tools with a roughing profile, on the other hand, are also suitable for machining that is susceptible to vibration.

Roughing cutter metal
Roughing cutters for metalworking are subject to high mechanical loads. It is therefore essential to use a high-quality cutting material in this area that is extremely tough and resistant to rapid temperature fluctuations.
Roughing cutter HSS
HSS roughing cutters are made of high-speed steel (high-performance high-speed steel) and enable fast and efficient machining of metals and plastics. Gühring offers roughing cutters with fine teeth made of HSS-E with different numbers of cutting edges and different surface treatments, such as the GS 80 roughing cutter.
Roughing cutter aluminium
A particular challenge when milling aluminium is the heat generation of the material. With the Alu RF 100 A Ratio milling cutter, Gühring offers a new roughing cutter especially for machining aluminium with reliable internal cooling.
A chamfer cutter is used to break sharp edges on workpieces and to machine chamfers. V-cuts, undercuts, deburring along the workpiece edges and the preparation of tools for welding are also common chamfer milling operations. Chamfer cutters are available in various angles, 45° is usually suitable for simple edge breaking.
Chamfer cutter metal
The choice of cutter depends, among other things, on the material to be machined. Gühring has a new chamfer cutter for metal processing: SpyroTec. The solid carbide tool ensures efficient milling thanks to its spiral cutting geometry and TiAIN coating.
Learn more about the SpyroTec chamfer cutter here.
A milling head (also known as cutter head) is a milling tool with interchangeable inserts. Milling heads consist of a base tool with a machine interface and a cutting edge holder.
Milling heads metal
In metalworking, milling heads are mainly used for face milling and have four to 50 cutting edges. In older milling heads, the soldered cutting edges are made of carbide, modern ones have interchangeable inserts, usually made of carbide. Gühring also offers various milling cutters with cutting edges made of PCD, which enable even more efficient face milling.

Milling head types
A distinction is made between different types of milling heads:
A face milling head with an angle of adjustment between 45° and 90° is used to machine surfaces. A corner milling head is used for face-peripheral milling and has an adjustment angle of 90°. Round cutting inserts are usually used in form milling heads, which make free-form milling or copy milling possible. Helical milling cutters are suitable for milling with extremely high cutting depths, which is why their interchangeable inserts are arranged one above the other and offset. Milling heads are also differentiated according to the number of interchangeable inserts that can be used and the different requirements for long or short-chipping material.
Aligning the milling head (adjusting the cutting edges)
For more flexibility in machining, Gühring offers PCD face milling heads that can be individually aligned to different machining operations. This is made possible by axially adjustable PCD cutting edges. Thanks to the integrated adjustment screws, the cutting edge axial runout of these milling cutters can be adjusted to the exact μm. These can be balanced using balancing screws for particularly smooth running at high speeds.