RF 100 SPEED
HPC milling in steel and VA
With the new RF 100 Speed, the sharpest and fastest HPC milling cutter in Guhring's Ratio programme is available on the market. It distinguishes itself thanks to a steep helix of 48° and its unequal cutting edge distribution for a smooth and quiet cutting operation. The milling tools are available in various designs. The long option possesses chip breakers to break short chips and hence ensures a friction-free chip evacuation.
RF 100 Speed possesses the geometry required to do justice to materials such as tough, low- and high-alloyed steels as well as difficult-to-machine materials – especially in modern application technologies such as the HPC milling strategy.
Double protection with corner protection chamfer and face correction

The tool has an optimised face geometry: Large face chip chambers and the improved web thinning allow process reliable plunging. Unequal cutting edge distribution ensures improved running smoothness and results in outstanding surface finish and long tool life. The optimised corner protection chamfer and face correction protect the cutting edge corner, the most sensitive part of the tool, from two sides so the cutting edge stands up well to even heavy shear loads. Thanks to this combination tool life is considerably improved.
Full slotting up to 0.8xD thanks to core stability

RF 100 Speed has a reinforced DIN shank for higher stability. Core stability creates more chip space in the frontal area making problem-free full slotting up to 0.8xD possible. Additionally the optimised face geometry makes helical plunging or oblique ramping possible.
Innovative chip breaker for HPC milling

With previous smooth cutting milling cutters applied in HPC strategies chips in the length of the ap (feed) are produced. Thus many chips are produced in a short period of time difficult to remove from the process. Chips remain on the workpiece and are difficult to evacuate. Thanks to the chip breaker the chips fall closer together, the evacuation is made easier. Especially with internal contour and cavities chips can be evacuated easier this way and therefore advantages in process reliability are gained. The light cutting operation significantly reduces machine load and increases volume output.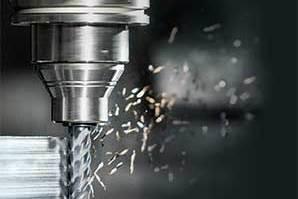 Application:
HPC roughing: Dry machining in 42CrMo4 (1.7225 with 900 N/mm2)
in HPC clamping chuck with PinLock extraction safety
Cutting parameters:
ap: 60 mm ae: up to 1 mm
vc: 270 m/min S: 4300 min-1
fz: up to 0.21 mm vf: up to 3715 mm/min
Metal removal rate Q = 222 cm³/min
Tool life in excess of 278 min for roughing