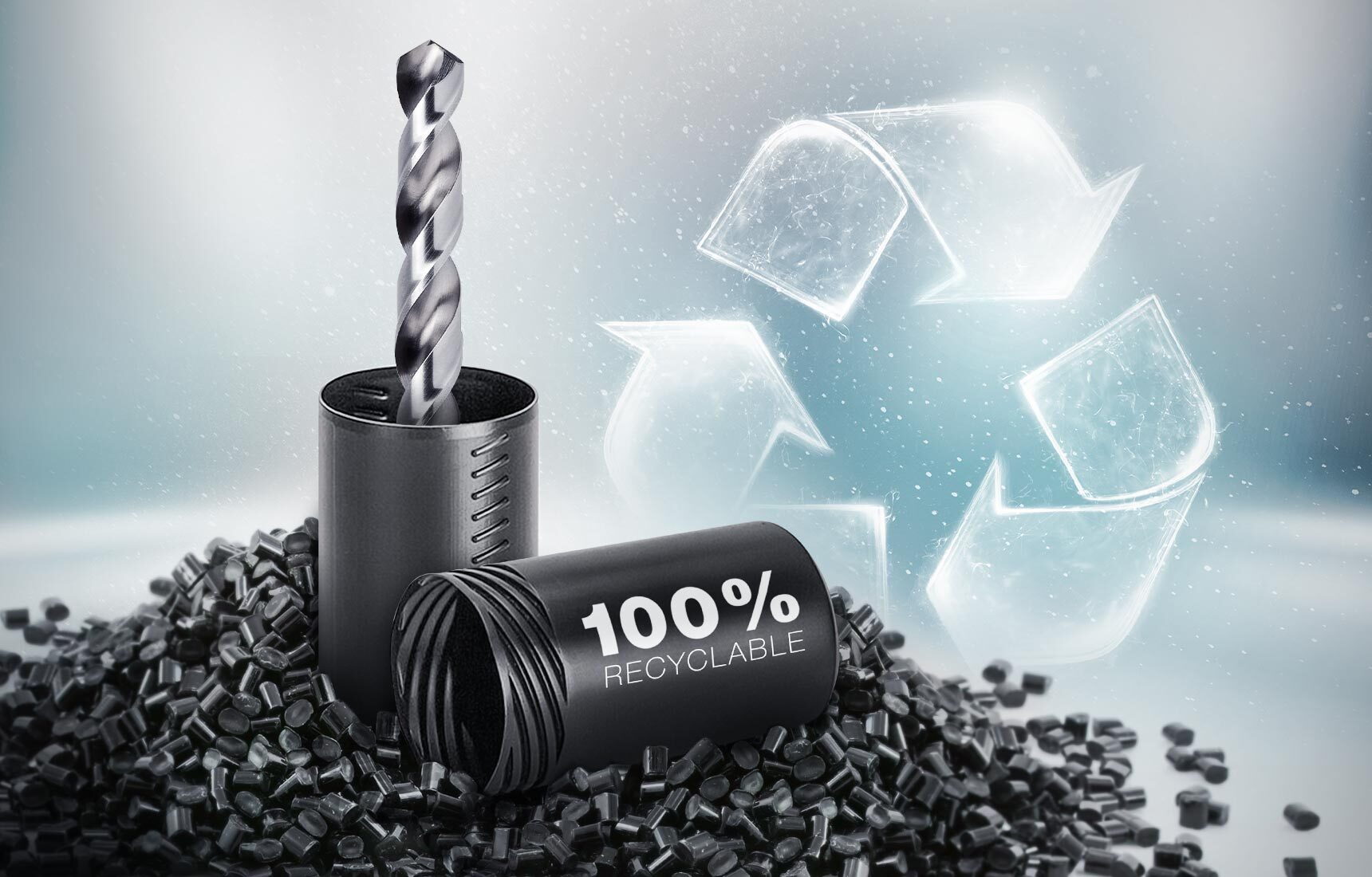 Gühring is starting to gradually introduce sustainable packaging. The packaging is made from a special type of plastic made from 100 percent recycled plastic waste. This makes Gühring the first German tool manufacturer to use recycled material for its packaging, saving the environment 234 tonnes of newly produced plastic every year.
12 billion tonnes. This is how much the "plastic mountain" that humans have produced in the space of just 100 years will weigh in 2050. That's the weight of the entire population of the globe – times 40. Packaging material forms over a third of this mountain and at the moment only a tiny fraction of it is recycled or incinerated. This means that 79 percent of our plastic ends up in landfills or directly in the environment. So, by 2050, there will be more plastic floating in the oceans than fish. Gühring does not want to participate in this plastic flood anymore. Just as the tool manufacturer is constantly on the lookout for new innovations in the field of cutting tools, Gühring also wants to break new ground when it comes to packaging.
Gühring supplies 95 percent of its products in plastic packaging. That is because plastic is the only material able to perfectly protect the high[1]quality cutting tools from damage and reactions with other elements during transport. "So, we thought: How do we get our precision tools safely to the Buying tools, protecting the environment: Packaging made from 100% recycled plastic customer and still protect the environment?" explains Dirk Seiffert, Head of Central Functions in Product Management at Gühring. The answer? Recyclable packaging solutions made from 100 percent recycled plastic. The raw material for this packaging forms what is known as post-consumer recyclate (PCR). This is made from plastic waste, which private households in Germany dispose of via the yellow bag recycling scheme and machines for returning plastic bottles.
 With 41,280,000 pieces of packaging leaving the Gühring plants every year, this switch will save 234 tonnes of new plastic per year in the future. Compared to conventional plastic, the production of PCR plastic also results in approx. 1.3 tonnes less CO². As a result, Gühring is reducing its CO² emissions in the area of packaging by 77 percent thanks to the switch. "Gühring is the first German tool manufacturer to promote sustainable packaging," assures Dirk Seiffert.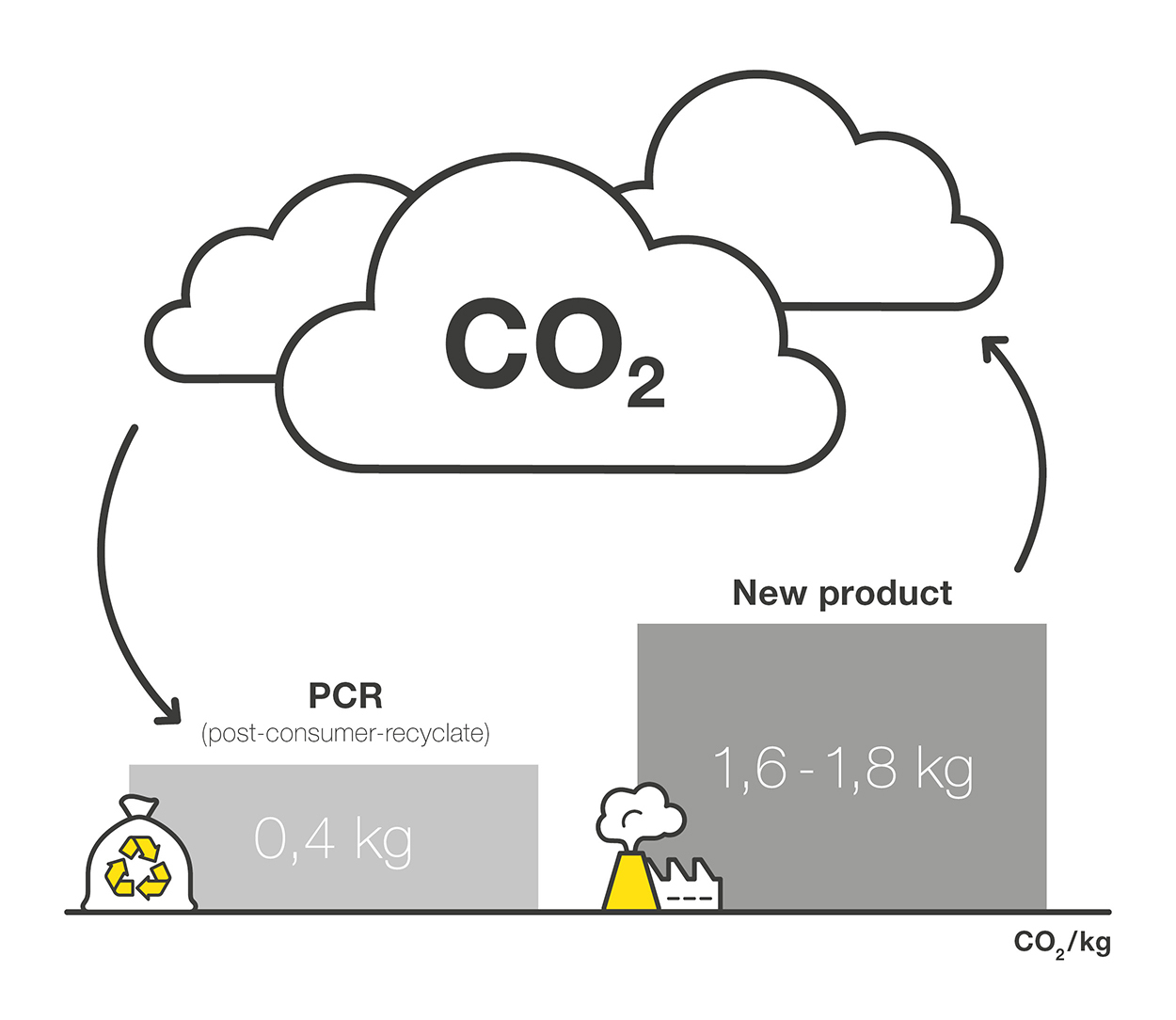 A never-ending cycle: Plastic, but make it sustainable please
Plastic has a bad reputation. However, switching to plastic-free packaging is not that easy: According to a life cycle assessment study by "Denkstatt", if all companies replaced plastic packaging with other materials, the amount of waste would increase by up to 360 percent. Energy consumption would more than double and CO² emissions would be 2.7 times higher. This is mainly because the lightweight material uses very little fuel during transport. The problem? We use resources such as oil, natural gas and coal to produce new plastics. We protect these finite natural resources by recycling the plastic after use instead of disposing of it.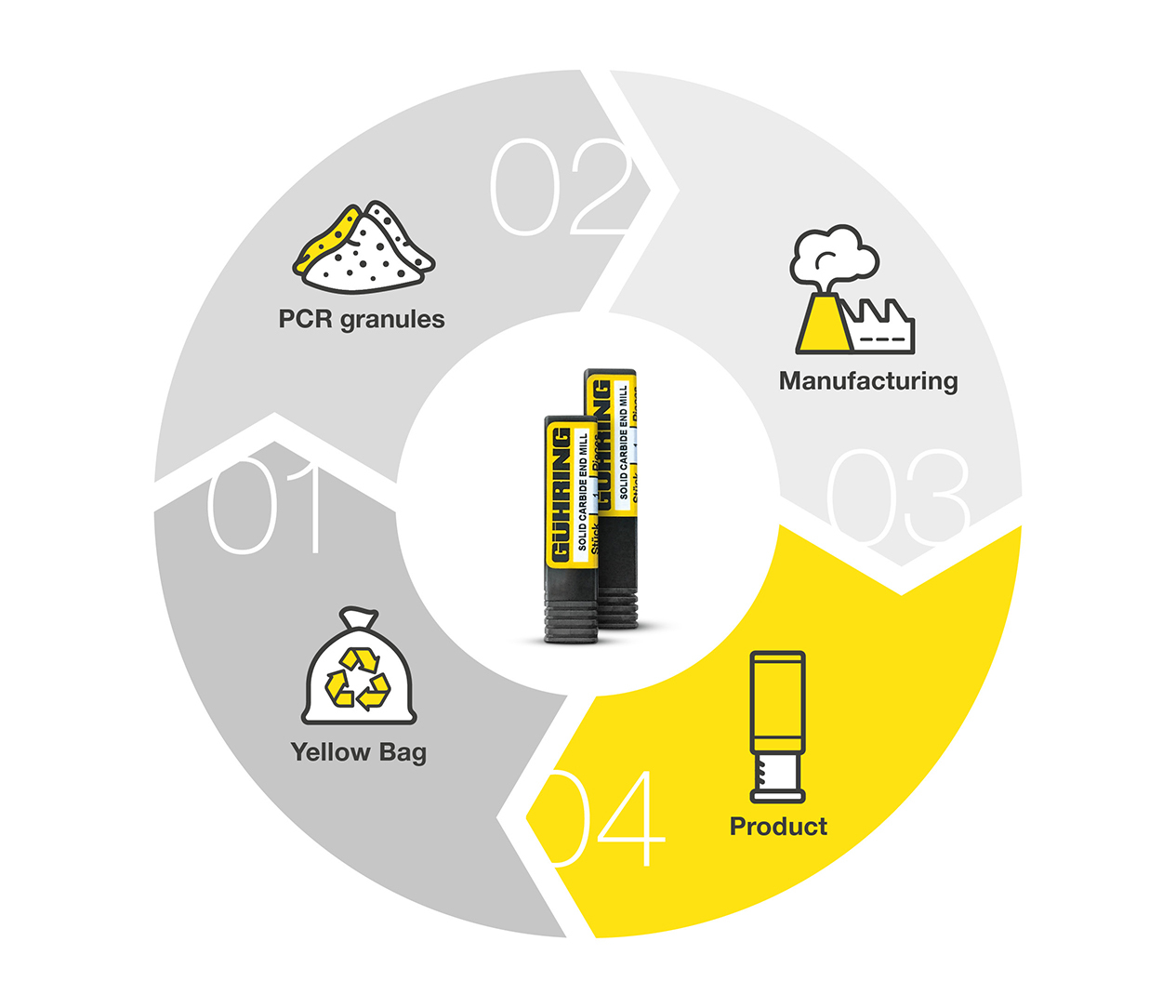 The circular economy is a multi-actor process that flows as follows: If customers receive their Gühring product by delivery, they remove the tool from its protective sleeve and dispose of the plastic packaging with recyclable plastic waste in their "yellow bags" (the plastic recycling scheme in Germany). These bags also collect empty PET bottles, yogurt pots and all other forms of household plastic waste. This waste is collected by a service provider, differentiated in size, sorted by type of plastic, ground, washed, melted, filtered and processed into PCR granules. There is no picking and choosing of the highest quality plastic; all plastic waste from the yellow bag is used and converted into a new valuable resource.
This granulate is purchased by rose plastic AG, which Gühring works with as a partner. The family-owned company has been producing recyclable packaging for over 65 years and is considered the global market leader for the production of plastic packaging for tools. Only recyclable plastics are used at rose plastic, and thanks to single-type production processes, the internal recycling rate is almost 100 percent. "We chose rose plastic as our partner because the company is very established in the field of recyclable packaging solutions," says Dirk Seiffert. "This means that you don't have to develop a product together first; instead, you can rely on a finished, tried-and-tested product right from the start."
Grey is the new black
The functionality of PCR packaging is in no way inferior to conventional plastic packaging: It is very robust, can absorb shocks and provide effective protection against moisture, dust and oil. When it comes to price, Gühring customers will not notice the new sustainable solution, but instead receive a free "environmental bonus" on top of their tools, so to speak.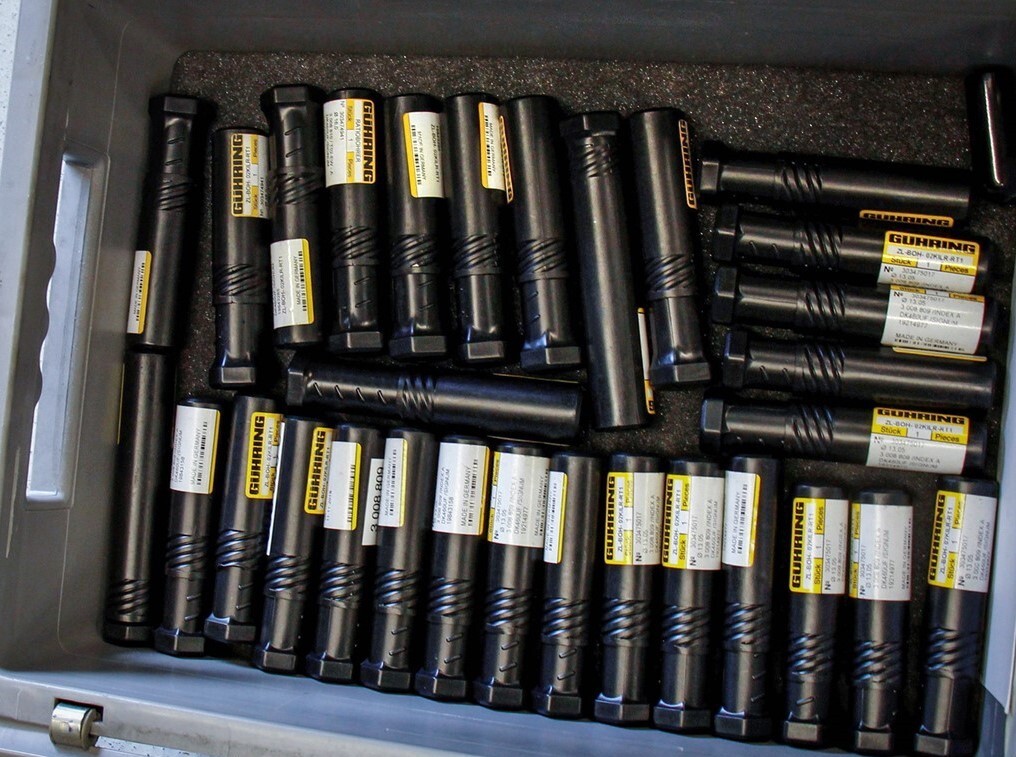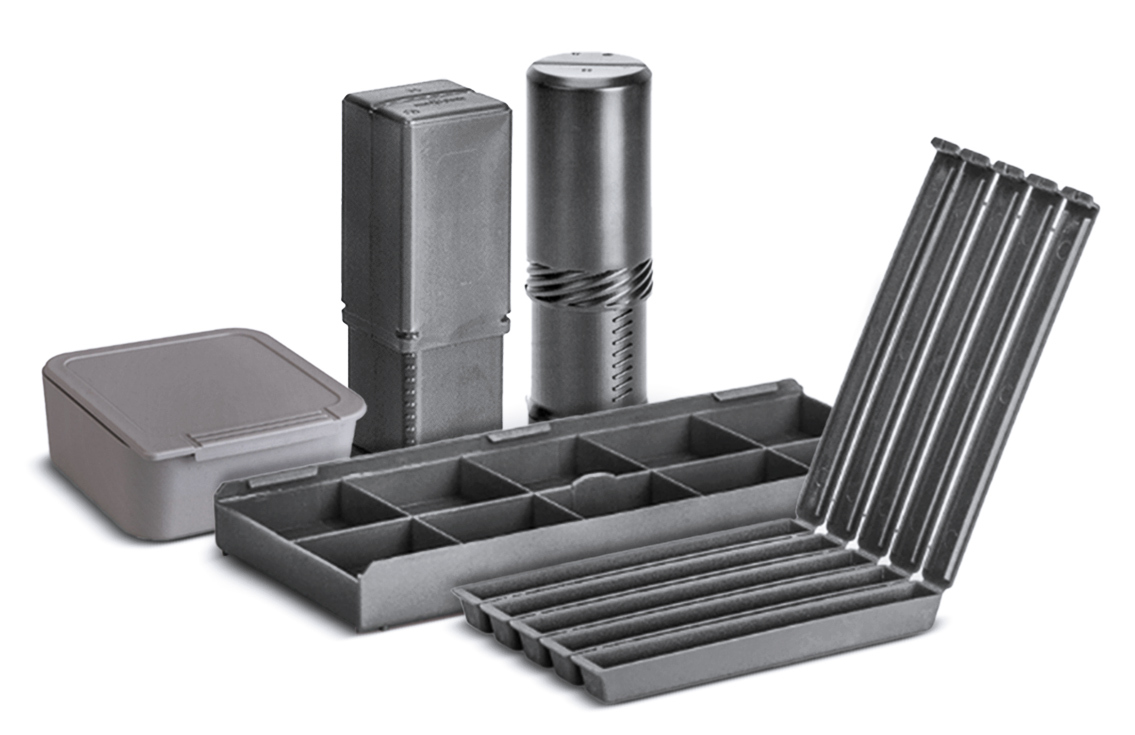 The only feature that sets sustainable packaging apart from conventional packaging is the colour: Due to the raw material, the recycled material has a grey colour instead of the previous black – and this is not just for visual reasons: Although it is generally possible to dye the material during processing, Gühring does not take this step for the purposes of sustainability. So, if you find yourself holding grey Gühring packaging in the future, you know that you are helping to reduce global plastic consumption.
The switch to packaging sleeves made from recycled material will take place gradually with immediate effect. At the same time, Gühring is working on sustainable labels. The goal is to switch 90 percent of all packaging materials to more sustainable alternatives by the end of 2022: from the rotating packaging sleeve to the box and the label.
You might also be interested in: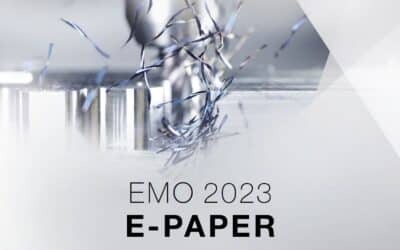 Hannover Messe is inviting visitors back to EMO – and Gühring will once again be presenting a number of product innovations this year. Our press kit for EMO 2023 provides a brief insight into what you can expect.
read more