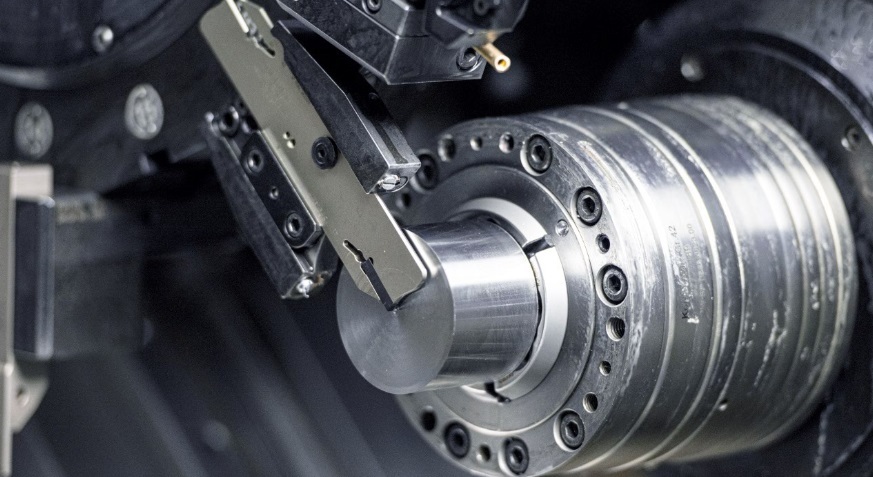 The Gühring System 222 for grooving and parting-off has been expanded: in addition to indexable inserts for steel materials, it now also includes a grade with a width of 3 mm for parting-off stainless steel materials. With two cutting edges and a length of 22 mm, the new indexable insert is ideally suited for parting-off the most common bar diameters. We also offer an extensive range of clamping holders with and without internal cooling.
Many production facilities use a mixture of steel and stainless steel materials. In recent years, there has been a rise in the demand for stainless steel in particular: whether it's in the medical technology, automotive or general mechanical engineering – across all industries, machinists are increasingly relying on stainless and difficult-to-machine materials. After the successful market launch of the 3 mm indexable insert for steel machining, customers frequently asked: when can we expect to see a cutting insert for stainless steel machining? Gühring was happy to meet this demand!
In series production, this indexable insert is used for parting-off on lathes with a bar feeder. As parting-off is often the last application on a component, process reliability during parting-off is an important factor. If the tool breaks, the finished component could be damaged. That is why it is important to use an insert whose geometry, cutting material and coating have been specially optimised for this application.

The developers at Gühring placed the greatest importance on the interplay between chip breaker, carbide grade, coating and design of the cutting edge. The result is impressive.
Chip breaker for optimal chip control
During development of the new stainless steel insert, the Gühring experts explored the topic of chip breaking extensively. The result is an insert with an extremely effective chip breaker. After all, "Process reliability equals chip breaking and chip breaking equals process reliability," explains Marco Bücheler, Product Manager for Grooving Tools at Gühring.
With grooving and partingoff, a chip breaker has to work hard: it constricts the chip, as the chip has to be narrower than the groove width, it makes the chip roll up and finally, it breaks the chip. Now that's multitasking! The result is reliable chip removal and good surface finish quality.

For safe chip removal, targeted coolant supply is also recommended. In addition, this reduces temperatures during machining, keeps cutting insert wear low and improves surface finish quality. The clamping holders in the System 222 have an internal cooling system for direct coolant supply to the clearance and the rake face. Connecting the coolant can also be done tubeless through the coolant port in the contact area of the holder.

42 % cost saving in field tests
The perfect combination of geometry, cutting material and coating is the result of considerable testing in the Gühring test field. A pre-series was then produced and tested in field tests together with Gühring customers. The result: customer feedback was consistently positive as all of the competitors' tools could be surpassed, customers have permanently switched their parting-off applications to the new Gühring tool.
In the example below, the feed rate was increased from 0.06 mm to 0.08 mm, which results in an impressive reduction in machining time with the same cutting speed. With this series of 15,000 components, we are talking about a time saving of more than five hours. Despite the higher feed rate, the Gühring insert also creates 40 percent more parting cuts.
Marco Bücheler's conclusion: "We have a technically flawless product here. Our field tests have shown that we perform well and are competitive with this insert in a wide range of stainless steel materials."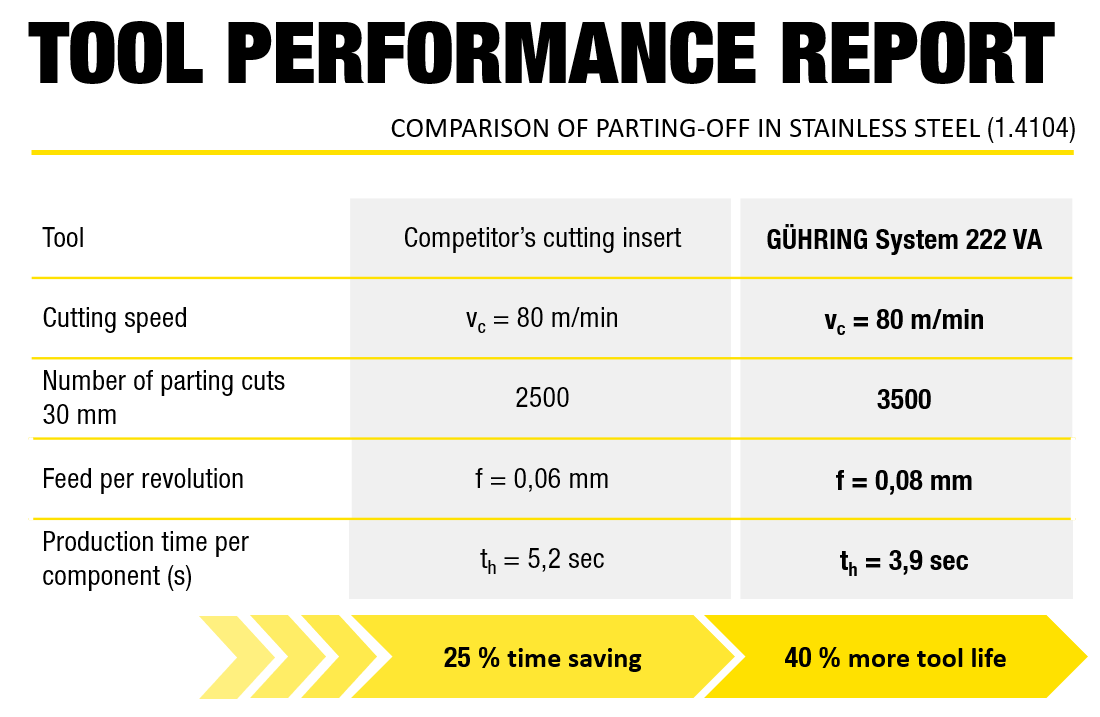 Have we piqued your interest?
Then arrange your personal consultation appointment now:
Technical advice and support are also available quickly and directly via our service hotline 00800 2607 2607. We can also be reached on WhatsApp: +49 172 658 53 53. Save the number!
You might also be interested in: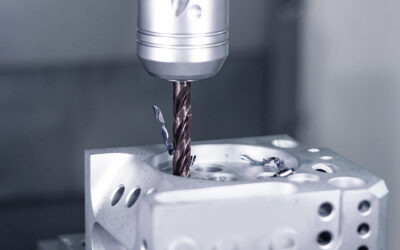 Higher feed rate thanks to a third cutting edge? This is what is promised by a new drill from Gühring. The problem of chip removal is resolved by an optimised flute profile and coolant ducts with a particularly large cross-section.
read more