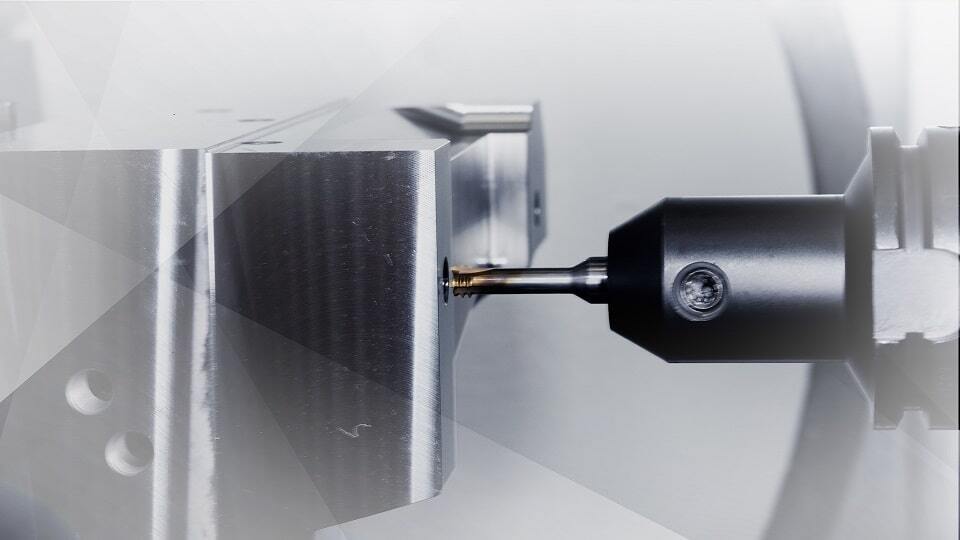 In mould and die, there is a trend towards increasingly harder and therefore more difficult-to-machine materials. The reason? The demand for consumer goods continues to increase, and with it the batch sizes of products manufactured with moulds and tools. To meet these increasing demands, Gühring has developed a special range of high-performance cutting tools for mould and die. Thanks to adapted geometries and a finer-grained carbide substrate that is around 200 HV harder, these tools are particularly reliable in hard machining
For example, a reference customer machined a contour on a mould insert for an injection moulding tool made of high-quality tool steel (1.2343 ESU) with a hardness of 53 HRC. The 5-axis machining process was carried out using Tebis CAM programming on a GROB machining centre (G350). We will show you which tools are used for this here:
3 milling cutters for hard machining
1. Pre-finishing the plane and contour surfaces with the G-Mold 55 B
Tool solution
The G-Mold 55 B ball nose end mill with a diameter of 6 mm (6848 6.000) is used. The solid carbide ball end mill is ideally suited for profile milling and finishing moulds and mould inserts made of hardened steel up to 65 HRC. Thanks to its high-precision full-radius geometry, it ensures maximum shape accuracy and an exact tolerance of the radius contour. While the majority of competitors offer only two-fluted profile cutters, the tool's four cutting edges extend to the centre, which enables significantly higher speeds for pre-finishing. The result is a time saving of at least 30%. A two-fluted variant is available for finishing, which ensures high precision.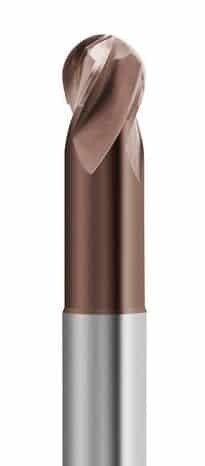 Typical cutting data for this application:
Vc = 264 m/min
N = 14000 rpm
f = 0.08 mm
ae = 0.3 mm
ap = 0.3 mm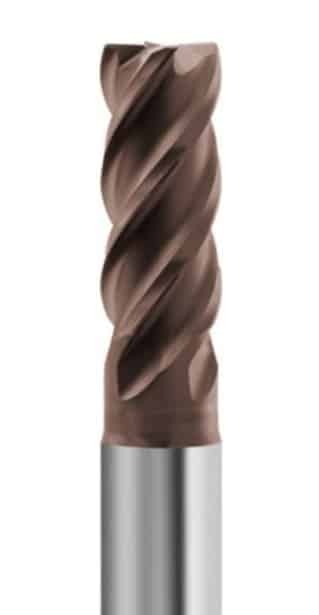 2. Roughing and finishing pocket with the G-Mold 65 U
Tool solution
The G-Mold 65 U solid carbide end mill with a diameter of 8 mm (6943 8.000) is used to mill a pocket directly into the solid material. The four-fluted ratio end mill can be used to create slots in components with a hardness of up to 65 HRC. Thanks to its neck clearance, the tool is also ideally suited for milling deep cavities. Its special flute profile with a thicker core improves stability, while a particularly hard signum coating makes it temperature-resistant for longer tool lives. This means that the tool can be used universally in hard machining, even for dynamic GTC milling with a low lateral infeed.
Typical cutting data for this application:
Vc = 90 m/min
N = 3581 rpm
fz = 0.035 mm
ae = 0.3 mm
ap = 15 mm
3. Thread milling with the MTMH3-Z
Tool solution
The micro thread milling cutter MTMH3-Z (4002 5.0) is used to insert M5 threads into the component. The tool facilitates circular drill thread milling into solid material without any pre-drilling up to a depth of 10 mm. Both unhardened and hardened materials up to 66 HRC can be machined. By creating a core hole and thread in one step, the tool ensures significantly shorter cycles and setting times. The special geometry of the thread milling cutter and the integral cooling grooves guarantee a very high level of process reliability and true-to-gauge threads.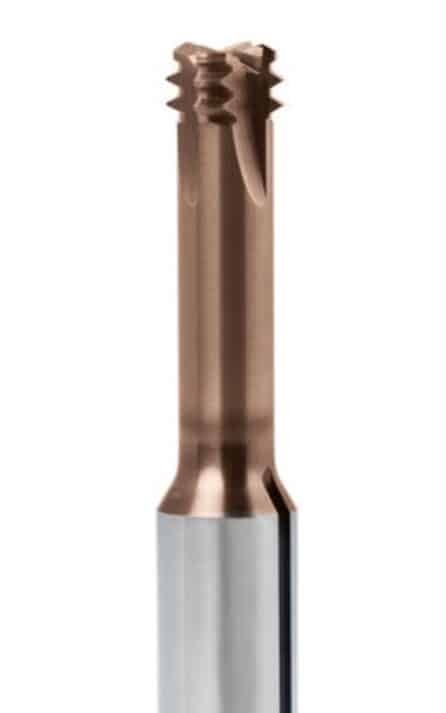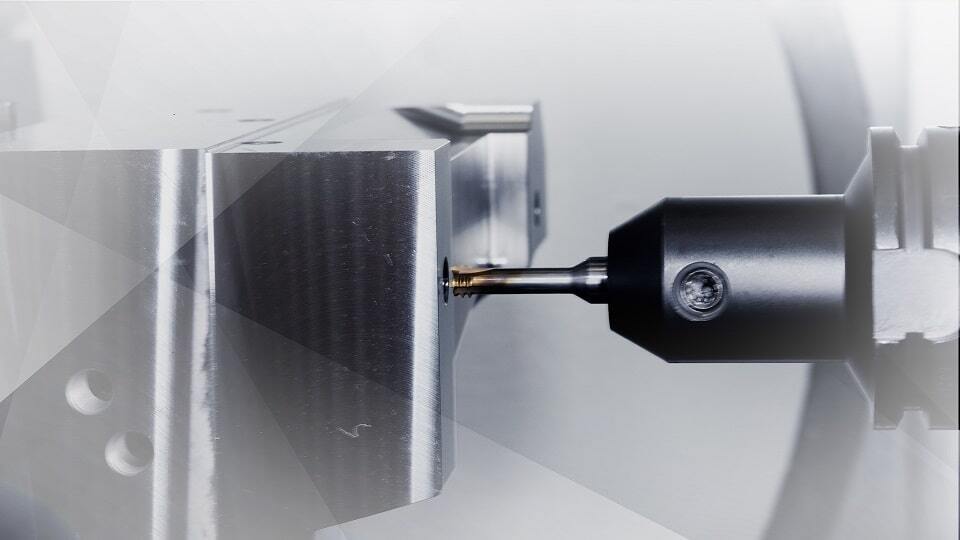 Typical cutting data for this application:
Vc = 70 m
S = 5863 rpm
f = 0.016 mm
P = 0.8 mm (= pitch)

4. Finishing with the G-Mold µ 65 B
Tool solution
The micro-precision milling cutter G-Mold µ 65 B with a diameter of 2 mm (6817 2.0) is used to finish the contour. The two-fluted finishing tool enables machining down to the smallest detail and is µ-precise in diameter, concentricity and roundness. The radius tolerances are even in the range of +- 5 μm. The GühroJet peripheral cooling feature integrated into the shank perfects chip removal by way of emulsion.
Typical cutting data for this application:
Vc = 125 m/min
n = 19894 rpm
fz = 0.015 mm
ae = 0.06 mm
ap = 0.06 mm
Have we piqued your interest?
Technical advice and support are also available quickly and directly via our service hotline 00800 2607 2607
We can also be reached on WhatsApp: +49 172 658 53 53. Save the number!
You might also be interested in: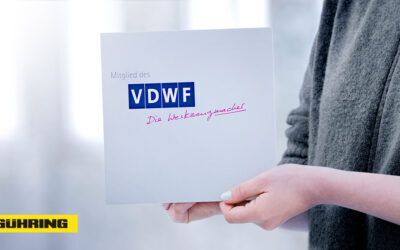 Gühring is now a member of the Association of German Tool and Mould Makers. By becoming a member of the strongest trade association in the sector, we aim to further expand our commitment in this field and seek to exchange ideas on level ground.
read more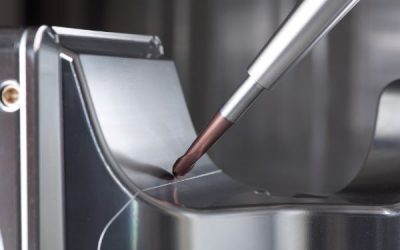 The demands that mould makers place on cutting tools are high – after all, they are responsible for more than 90 % of the product quality. Gühring meets these requirements with a brand new milling cutter range designed specifically for mould making.
read more