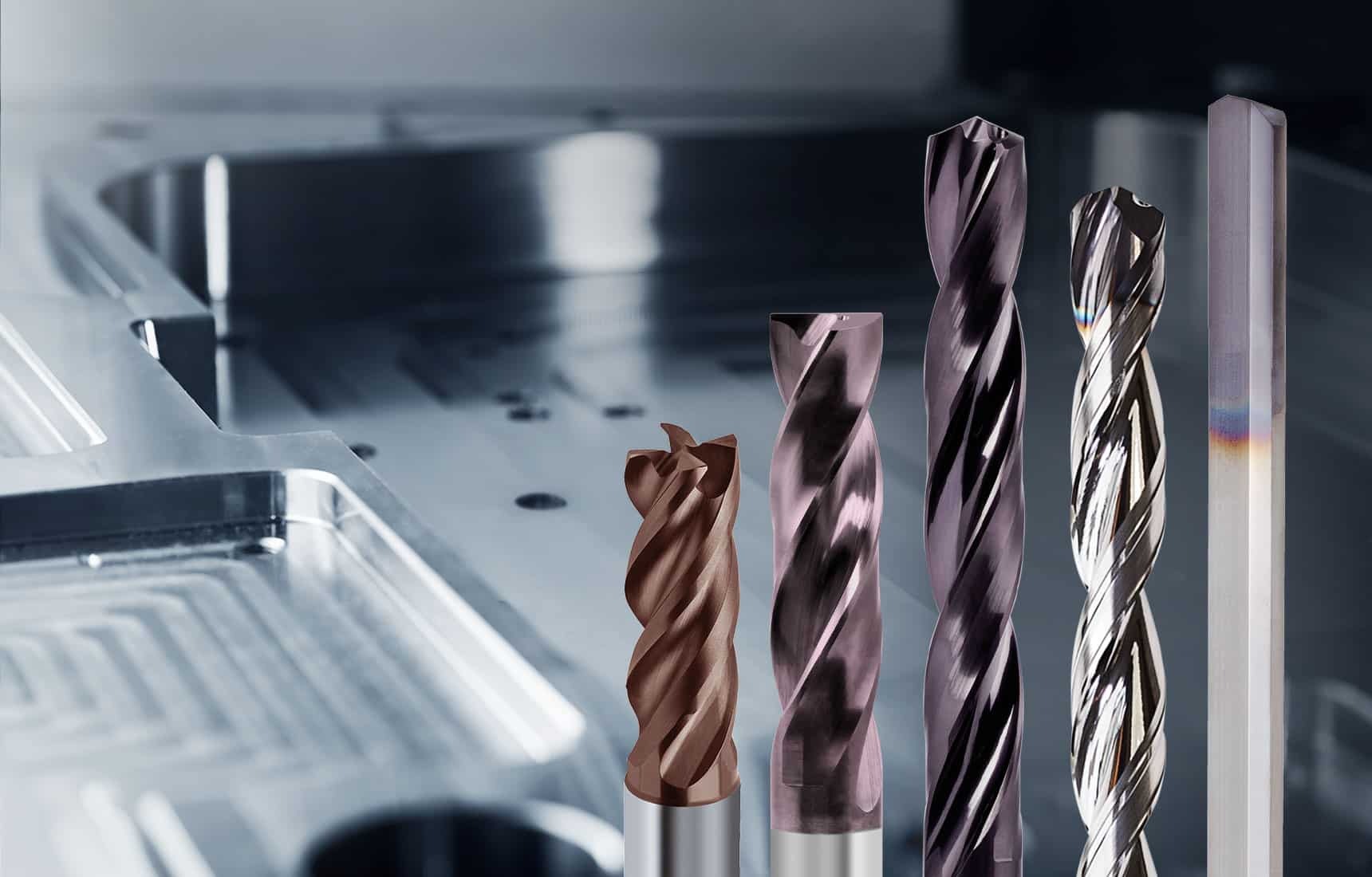 Deep hole drilling plays a significant role in the mould and die sector, especially in the production of injection moulding tools. High-quality cutting tools are indispensable for drilling holes with a high degree of precision and a good surface finish. For example, the tools must be equipped with suitable internal cooling in order to effectively remove chips from the deep holes. We have put together a selection of tools – plus cutting parameters – that ensure a successful deep hole drilling process.
The component: A form insert made of steel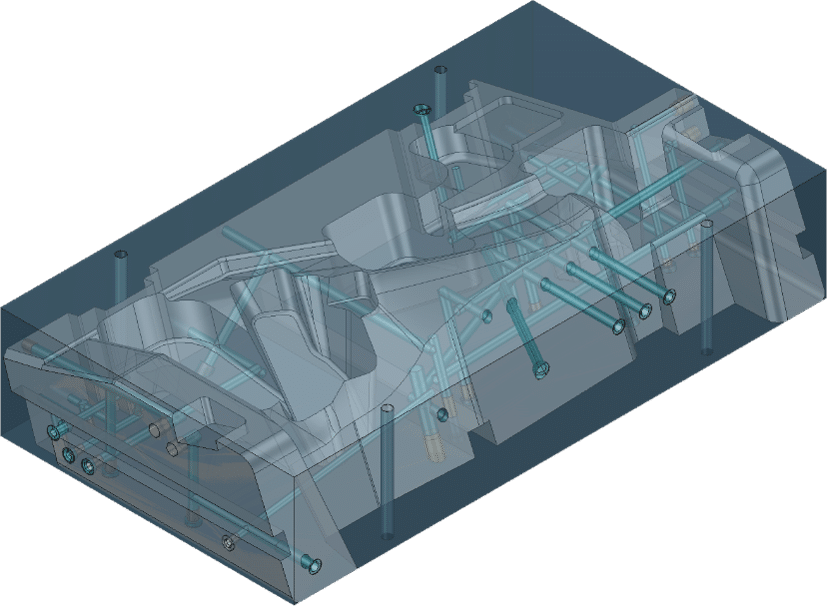 Temperature control drill holes need to be produced in a steel (1.2312) form insert. These will later serve as coolant ducts through which a coolant can flow, for example, in order to control the temperature of the mould. This is especially important for reducing cycle times and improving the quality of the moulded parts. In this example, deep hole drilling is carried out on a horizontal machining centre by DMG; programming was performed using Tebis.
The right way to approach deep hole drilling
The procedure for deep hole drilling on a horizontal machining centre is typically divided into three steps:
Finishing: This step is needed on curved and inclined surfaces. Here, a flat drill or milling tool is used to create a flat base on which drilling can then be performed.
Piloting: Pilot drilling is required to drill a deep hole on a machining centre. This is between 1.5xD and 3xD deep and is used to guide the deep hole drill. Inadequate guidance influences the hole quality and the concentricity.
Deep hole drilling: For the production of a deep hole, several tools in different lengths may be used one after another in order to gradually reach the required depth of the hole. This approach allows for better chip control, more stable holes and optimised machining times.
Step 1: Finishing on curved and inclined surfaces

Cutting data:
Cutting speed: 50 m/min
Feed rate: 0,125 mm/rev
Speed: 1.989 rpm
RT 100 FB flat drill
You can skip the finishing and piloting steps by using the new RT 100 FB flat drill from Gühring. Thanks to its straight main cutting edge, drilling and piloting on inclined or curved surfaces is possible up to 45° without any deflection. The RT 100 FB with a Ø of 8 was used for this component. However, for shallow hole entries, we recommend opting for an alternative tool.
Alternative: RF 100 Diver end mill + piloting with the RT 100 XF
RF 100 Diver
If you don't have a flat drill to hand, you can use a combination of finishing and piloting. A solid carbide milling cutter with a Ø of 7.7 is used here for initial milling or finishing. We recommend our RF 100 Diver solid carbide end mill for this purpose.

Cutting data:
Cutting speed: 180.0 m/min
Feed rate: 0,0312 mm/Z
Speed: 7.441 rpm
RT 100 XF
In order to later guide the deep hole drill perfectly, a pilot hole is drilled into the workpiece in the second step. The spiral solid carbide drill RT 100 XF with a Ø of 8 is suitable for this. It drills to a depth of 24 mm (3xD). The tool is perfect for piloting in steel: Its four guide chamfers grip extremely early, thus perfecting coaxiality and ensuring a very high hole quality. This is important because the quality of the pilot drilling determines the further deep hole drilling process.

Cutting data
Speed: 2588 rpm
Feed rate: Vorschub: 518 mm/min
Step 2: Deep hole drilling with the RT 100 T
The spiral solid carbide deep hole drill RT 100 T with a Ø of 8 is used to drill the deep hole. It first drills to a depth of 250 mm. This is where the tool demonstrates its strengths: Its special groove geometry ensures optimum chip transport from deep holes. This is supported by coolant ducts with a maximum cross-section, which effectively deliver lubricant to the cutting edge.


Drill into the pilot hole at reduced speed:
Switch on cooling and increase speed 
Drill continuously to the full drilling depth without interruption
Reduce speed and pull out of the hole at max. 5000 mm/min and with a rotating spindle
Schnittdaten
Speed: 2588 rpm
Feed rate: 323 mm/min
Step 3: Finish drilling with the EB 100 M
As a final process step, a second deep hole drill is used to finish drilling to the final depth of 430 mm. It is essential to ensure that the point angle of the follow-on tool is always blunter than that of the preliminary tool. If this is not the case, the first contact between the hole and the tool is on the flank of the tool. This causes the drill to vibrate, the flanks can become blunt/break and the tool life decreases rapidly. The choice of the follow-on tool is therefore determined by the primary tool.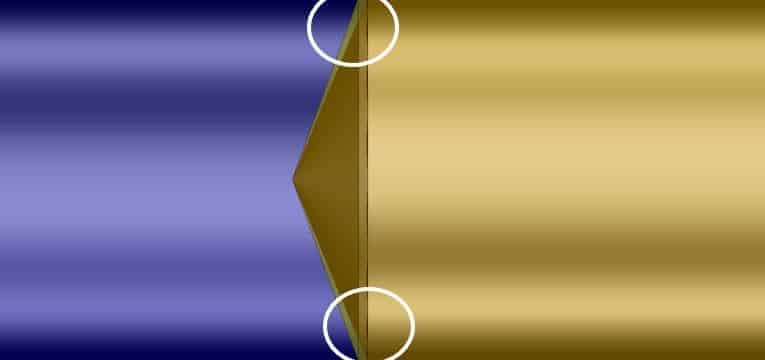 In this case, we suggest the single-fluted gun drill EB 100 M with a Ø of 7.94. It easily drills to the desired depth of 430 mm and produces particularly narrow drilling tolerances. The monolithic tool does not require a solder joint, which makes it very sturdy. The result: Compared to conventional deep hole drills, the EB 100 M facilitates 20 to 30% higher feed rates.

Cutting data
Speed: 3008 rpm
Feed rate: 39 mm/min
Machining is also carried out in four steps here as described in step 3:
Drill hole
Increase cutting values
Drill to total depth
Pull out at reduced speed
Have we piqued your interest?
Technical advice and support are also available quickly and directly via our service hotline 00800 2607 2607
We can also be reached on WhatsApp: +49 172 658 53 53. Save the number!
You might also be interested in: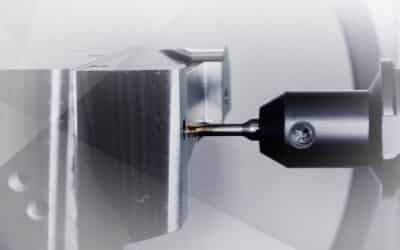 In mould making, there is a trend towards harder and therefore more difficult-to-machine materials. A reference customer machined a mould insert for an injection moulding tool. We will show you which tools are used for this here.
read more