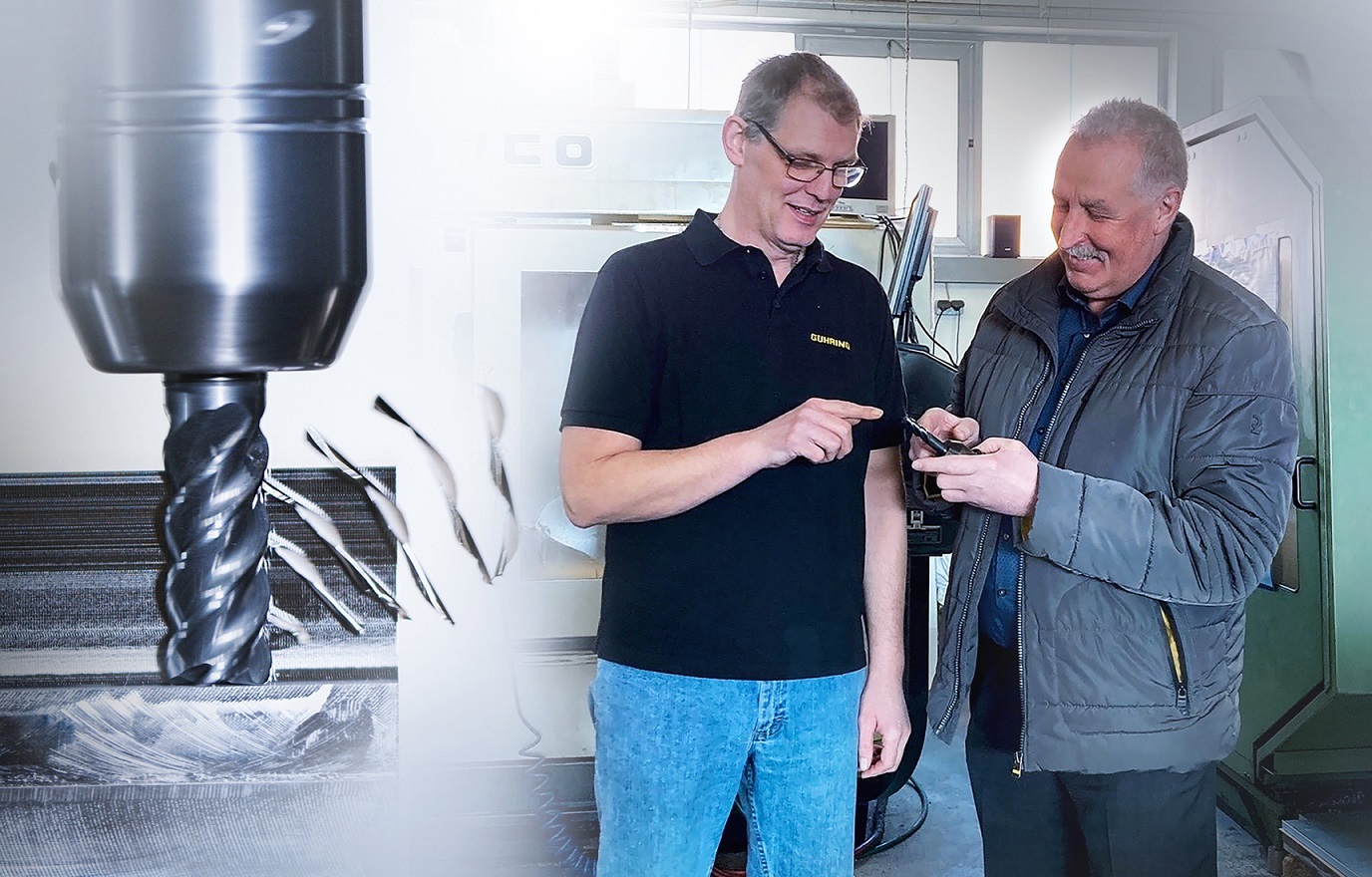 650 minutes of tool life, 2560 cm3 chip volume, hardly any wear. Impos­sible? Of course not! With this result, the RF 100 Sharp solid carbide mill­ing cutter from Gühring is exceeding the expectations of metal processor LB-Fertigungsservice GmbH from Schöneck. Even under unstable ma­chining conditions, a single milling cutter can handle the entire job.
Founded in 2005, LB-Fertigungsservice GmbH's core skill lies in manufacturing sophisticated mechanical components. In addition to qualified series production, the family-owned company specialises primari­ly in the production of individual parts. Be it samples, prototypes or niche products – LB Fertigungsservice also has to meet project requirements in economic terms at all times. "Individual parts are our business. Our hall­mark is our speed in manufacturing. Then the order has to work," explains production manager Stefan Petermann. "If we have any questions, we need an answer quickly. And we can count on that with Gühring."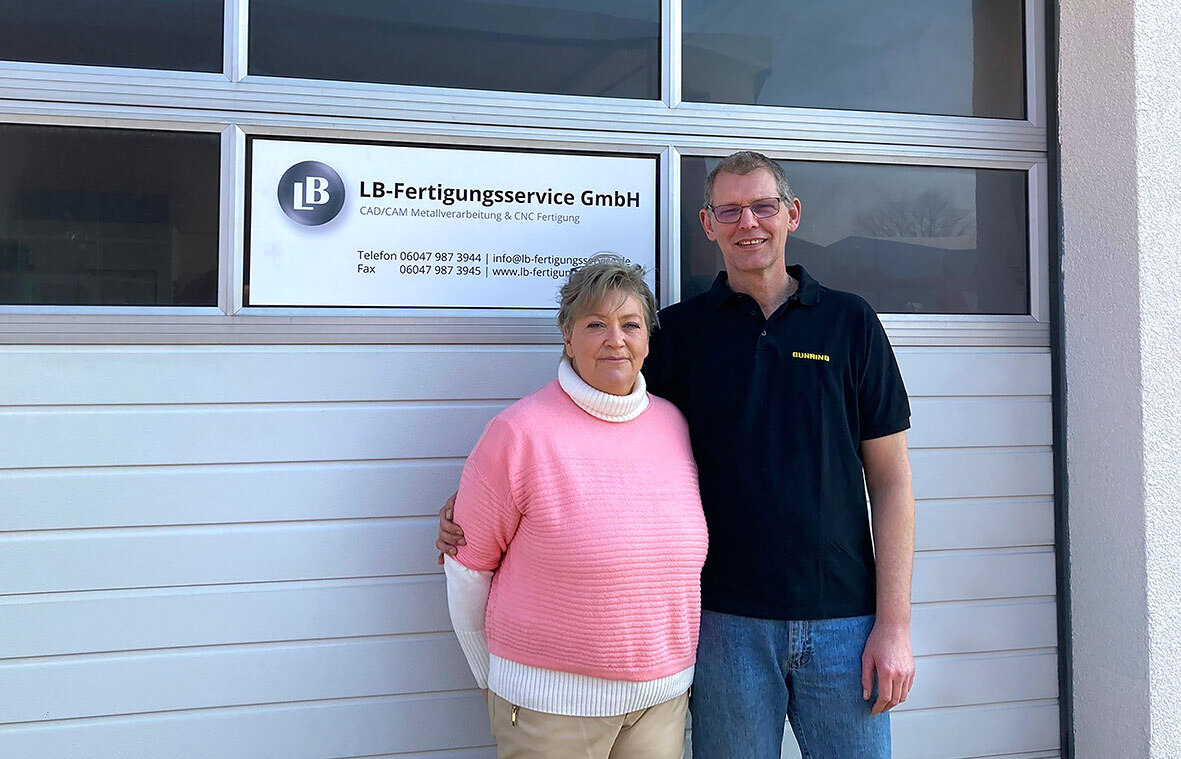 A great team: Liane Beinenz, Managing Director at LB-Fertigungsservice and Production Manager Stefan Petermann.
The task: Lots of milling with a lot of vibration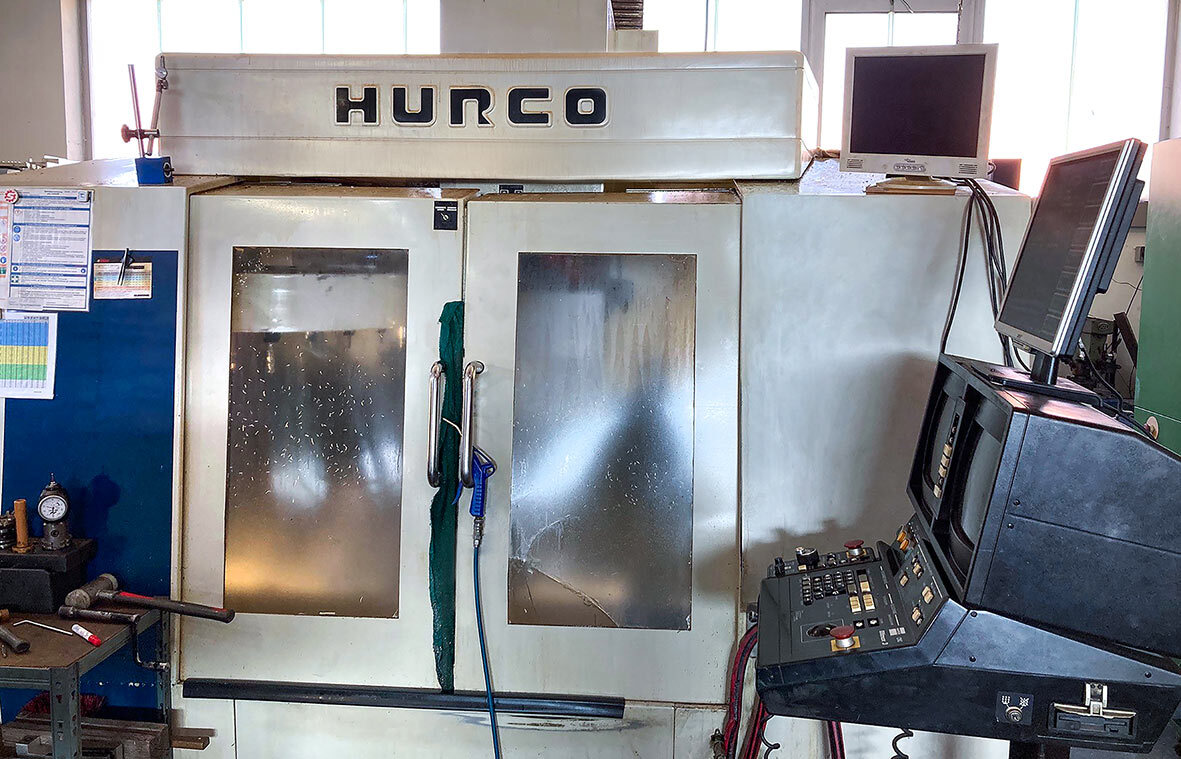 One order presented some major challeng­es to the company LB Fertigungsservice: A total of four components needed to be manufactured, which would later be used in textile production. The blank was to be ma­chined from two sides. And two deep steps needed to be milled on each side. 
But in addition to the depth of the steps, the ma­chine intended for this purpose posed a par­ticular challenge for the contract manufacturer from Altenstadt: The machine with SK40 has been in use at LB-Fertigungsservice for 18 years – and placed high demands on the tool due to the unstable machining conditions.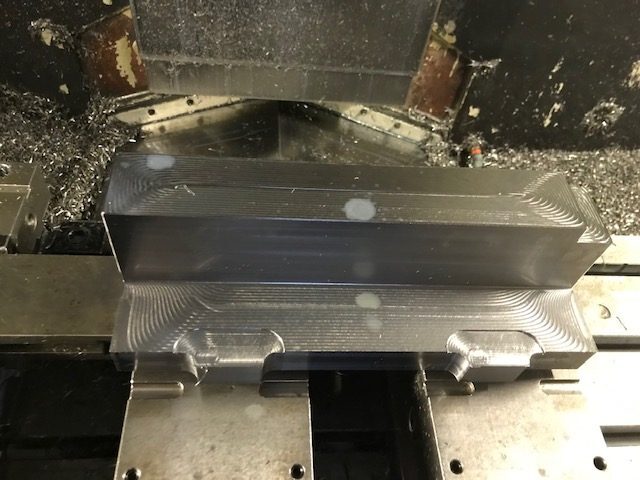 A clear case for the shark
The blank made of 16MnCr5 case hard­ened steel weighs 82 kilograms. After milling, only 16.8 kilograms of case hard­ened steel will remain: a machining volume of almost 80%. With the exception of stock removal of one millimetre, just one single milling cutter is required for the entire ma­chining process.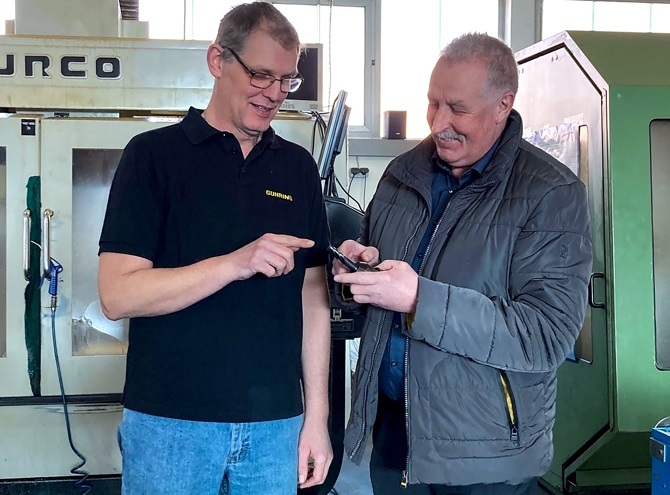 Stefan Petermann (LB-Fertigungsservice, left) and Walter Wolf (Gühring) are impressed by the perfor­mance of the RF 100 Sharp.
It quickly became clear: A good metal removal rate and high pro­cess reliability are essential to meet the eco-nomic efficiency requirements. For Gühring employee Walter Wolf, it is clear: "The long design of the RF 100 Sharp – the sharpest of all milling cutters – is our only chance here." The length of the milling cutter is decisive for the deep step to be milled into the compo­nent.
In addition to the star milling cutter, the RF 100 Diver, the customer already uses the RF 100 Speed. "The Speed is also available in a long design, but has a lower rake angle compared to the Sharp. This tool would have built up too much pressure on this machine – that would not have worked," says Wolf. With his recommendation, Wolf hit the mark. Thanks to its high rake angle and very sharp cutting edges, the RF 100 Sharp exceeds all expectations.
After 3.5 components and a tool life of 574 minutes, Petermann and Wolf checked the milling cutter. And found almost no signs of wear. And not even the completion of the fourth and final component was affect­ed by this – there was no sign of any micro chipping or corner chipping. The result: The milling cutter achieved a tool life of 650 minutes with an impressive metal removal rate of 2560 cm3 – in spite of the tool's enor­mous overhang and the poor machine con­ditions. The RF 100 Sharp thus exceeded all the customer's expectations: "We ordered a total of four milling cutters for the order – one tool per component. In the end, we were able to complete the entire order with just one tool," Petermann says happily.
Gühring's sharpest milling cutter
How did the RF 100 Sharp achieve this? Thanks to its product properties, the new Gühring product is partic­ularly well-suited for ma­chining soft, tough and high-alloyed materials. With a rake angle of 12 degrees, the solid carbide tool cuts powerfully and smoothly through challenging mate­rials – and ensures excep­tionally easy cutting.
An­other major advantage that benefits LB-Fertigungsser­vice GmbH in particular: The RF 100 Sharp stands out with its strong performance in all operating conditions. Even on unstable machines. Thanks to the tough carbide, tool breakage is prevented even under very unstable machining con­ditions. The optimised facet cut dampens vibrations and increases running smooth­ness and tool life, while the corner pro­tection chamfer ensures maximum stability and edge strength. Wear is also reduced by the AlCrN coating developed by Gühring. The solid carbide milling cutter RF 100 Sharp extends the Gühring portfolio as the first milling cut­ter in an extra-long design.
In contrast to the standard milling cut­ter, this variant features a lon­ger cutting edge, but is based on "long (DIN)". For even greater depths, the RF 100 Sharp is available as a mid-length design, which has been designed so that the cutting edge accounts for more than 50% of the reach. This means that the sharpest milling cutter from Gühring to date offers the right length for every application. An advan­tage that LB-Fertigungsservice GmbH was able to benefit from in this case.
Gühring: More than just a tool manufacturer
For Petermann, one thing is certain: The three remaining milling cutters are still com­ing in useful. After all, new challenges require new tools for the company to re­main competitive. "We have 30 years of milling experience, but there's always so many new developments. If you stay in the same place, nothing will get any better," he explains. With Gühring, he has found a partner who not only sells tools, but also shares valuable expertise. These are the best conditions for continuing to master common challenges quickly and efficiently.
Have we piqued your interest?
Then arrange your personal consultation appointment now:
Technical advice and support are also available quickly and directly via our service hotline 00800 2607 2607
We can also be reached on WhatsApp: +49 172 658 53 53. Save the number!
You might also be interested in: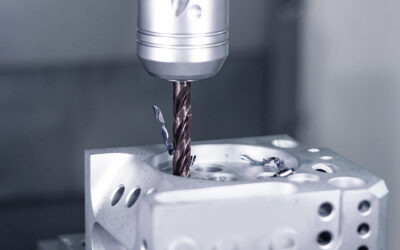 Higher feed rate thanks to a third cutting edge? This is what is promised by a new drill from Gühring. The problem of chip removal is resolved by an optimised flute profile and coolant ducts with a particularly large cross-section.
read more