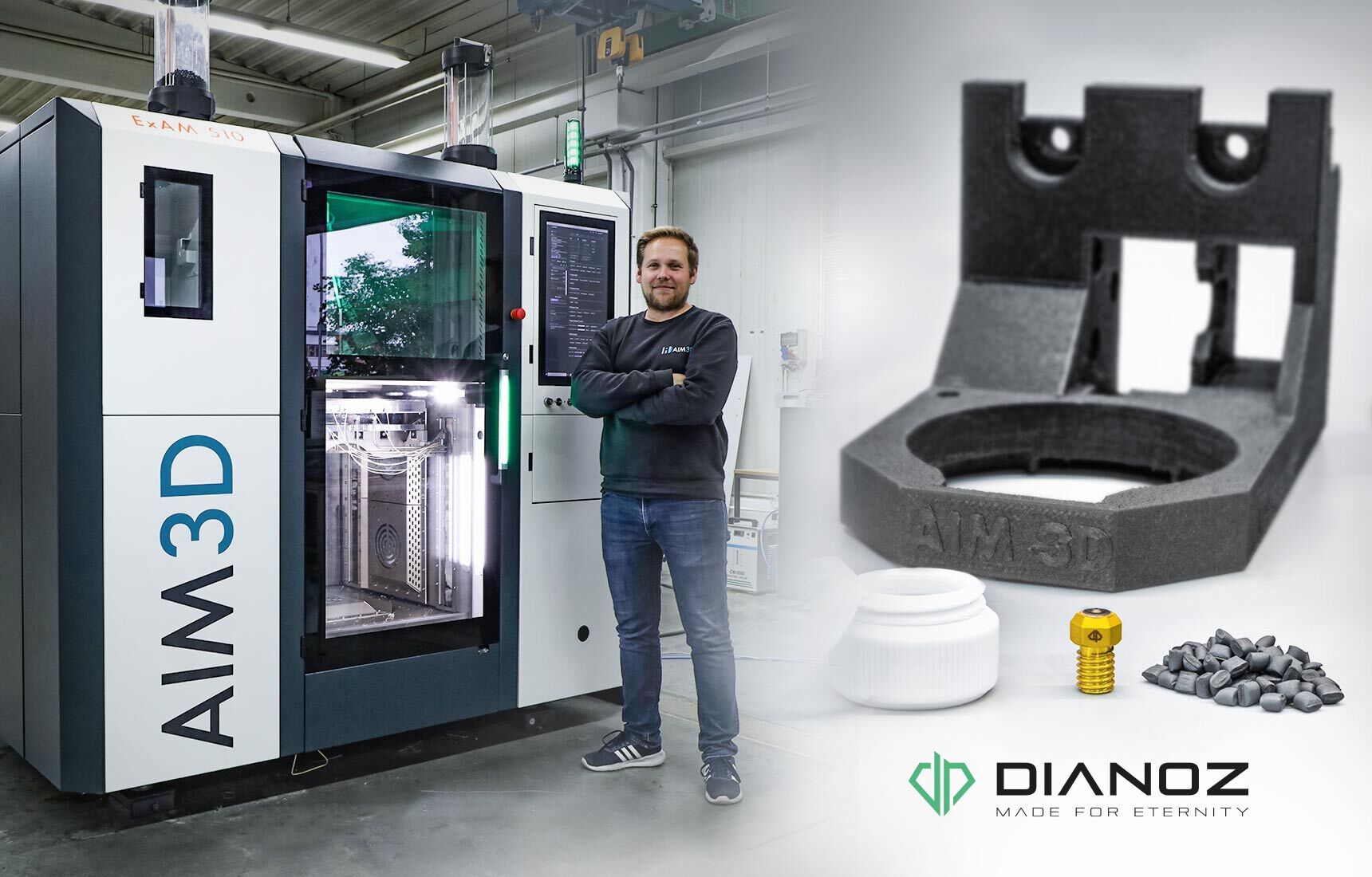 AIM3D develops and distributes granulate extruders for serial 3D printing. But when customers want to print carbide or ceramics, the company had a long period when it was unable to guarantee reliable processes. The problem: The printer nozzles could only withstand the abrasive materials for a short time. This meant that the size of the piece-printed components made of this wear-inducing material was also restricted due to the nozzle. A new diamond nozzle from Gühring changed everything.
About 110 years ago, Henry Ford introduced the assembly line into his factories – changing the entire manufacturing industry as a result. Today, there is a new technology that also has the potential to change everything: 3D printing. Will 3D printers soon be lining up in production halls and printing complex components made of carbide and steel in series production? This, at the very least, would be possible with the 3D printers from AIM3D. The company was founded in 2017 as a spin-off from the University of Rostock and today has a 500-square-metre headquarters near the port of Rostock.
What makes these printers so interesting, especially for series production, is their unique extruder technology: Each printer has at least two granulate 3D printer heads. In this way, several materials can be printed at the same time with just one printer. This dual printing process is interesting for many sectors that use 3D printing as a forming process, e.g. the production of green parts made of metal or ceramic. The components are then sintered, leaving the metal or ceramic parts. Well-known customers from the automotive industry already use AIM3D printers in prototype production and testing, with the aim of one day transferring 3D technology to series production.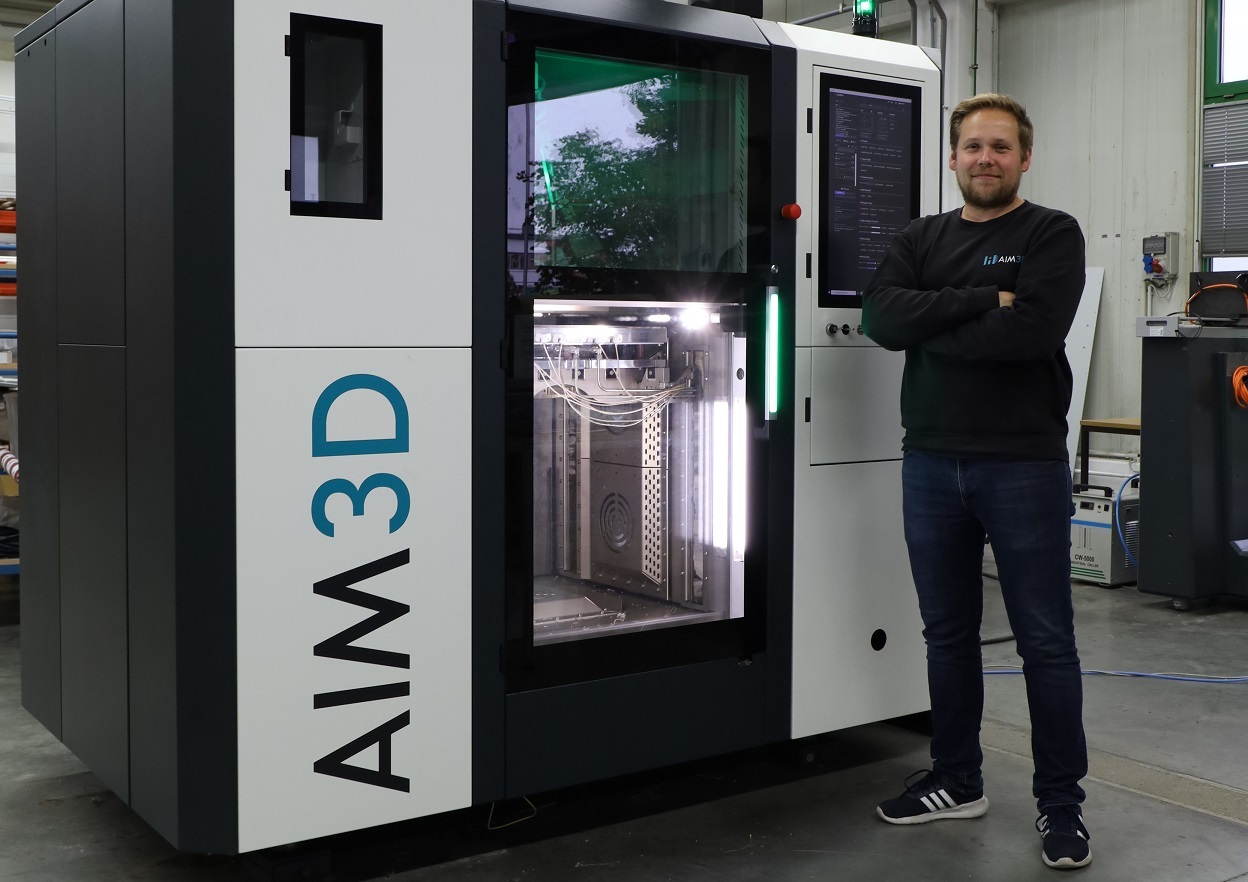 Tim Weidner is in charge of process development at the printer manufacturer AIM3D.
Material eats through standard nozzles – but not Dianoz
"The initial inquiry from our customers is normally: 'I have a material and a problem – can we sort this out with your 3D printers?'" says Tim Weidner, who is in charge of process development at AIM3D. The materials to be printed are wide-ranging and, in addition to carbide and ceramic, also comprise all engineering plastics, including high-performance plastics such as Ultem or PEEK.
But although the AIM3D printers can easily print serial materials like these, the sticking point is often caused by a rather inconspicuous yet important part of the printer: the nozzle. "When printing carbide and ceramic, we work at the very least with hardened steel nozzles, but even they aren't enough for the highly abrasive field," Weidner says. "Here we tried a range of solutions on the market, but unfortunately we didn't have the best experience." He often found that the hardened steel and ruby nozzles were simply not produced to a high standard of quality. As a result, some customer concerns could not be met: "If I am given a very challenging material by my customers, my printer is only as reliable as the printer nozzle," says Weidner.
Diamonds are 3D printers' best friends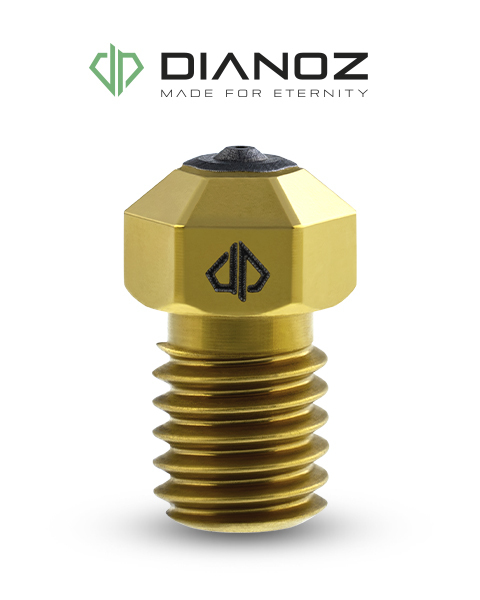 The solution revealed itself to AIM3D at a trade fair in 2019 when Gühring presented its new "Dianoz nozzle". The world's first diamond-tipped printer nozzle promises almost infinite printing without any wear because, as the hardest natural material in the world, diamond offers the best wear protection – including as an insert in the nozzle tip. At the same time, it conducts heat extremely well, ensuring even material extrusion and smooth surfaces. AIM3D received a prototype of the diamond nozzle to test it in its 3D printers. Four years later, Tim Weidner's conclusion is: "The thermal conductivity is indisputably high and the wear resistance simply cannot be beaten."
First and foremost, it is this resistance to wear that makes all the difference when printing. For example, the printing time for very large and complex components is up to 24 hours and sometimes even several days. Depending on the material, it may not be possible to finish printing this component with one standard nozzle in cases like this. Theoretically, the printing process could be stopped and the nozzle could be replaced.
In practice, however, this is rather impractical, because the new nozzle must then be screwed back into the exact same position so that the height on the component is not offset. Even the smallest deviations in nozzle positioning and assembly may subsequently be visible on the component and may even impair its stability and functionality under certain circumstances.
10 kilograms of printed glass fibre-reinforced plastic
The importance of this wear resistance has also been demonstrated, for example, in the printing of a high-strength and extremely wear-resistant ceramic silicon carbide: A steel nozzle was so worn out after just two hours that the nozzle exit had expanded from 0.4 mm to 0.6 mm. In these circumstances, it was not possible to finish printing the component. "The problem of wear with ceramic printing is as old as our company itself," says Weidner. In contrast, the Dianoz nozzle showed no changes after printing the silicon carbide – even after several weeks of use.
The Dianoz nozzle also showcases its strengths when printing other extremely abrasive materials: For example, it can print 10 kilograms of plastic, which is 30 percent filled with glass fibre, without any wear. For AIM3D, whose customers often print precisely this type of glass fibre reinforced plastic, this is a real hit. Weidner summarises: "If a nozzle does not manage to withstand printed material, we have to switch to a better one; that's always when we reach for the Dianoz nozzle. Dianoz was the first nozzle that enabled us to print certain component sizes reliably."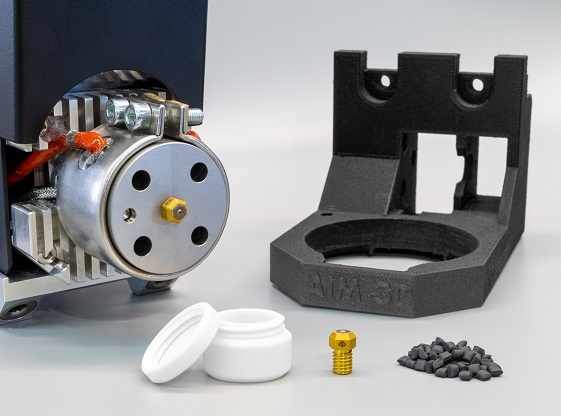 Consistent quality guaranteed
At the moment, AIM3D uses four nozzles in different diameters. The oldest nozzle has been printing for over three years – and can cope with any material. However, the company also recommends the Dianoz nozzle to its customers when they purchase a printer to be used to print carbide or ceramic, for example. "Then we offer Dianoz as a standard nozzle," says Weidner. "After all, customers expect our product to always deliver the same quality, and that's only possible with the right nozzle."
Order your DIANOZ nozzle now
Do you have questions about DIANOZ? Would you like to order directly? Contact us: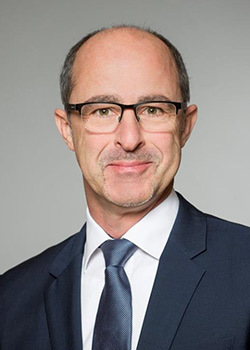 Udo Lerach
Head of Sales for Trade & Special Parts, Private Label
You might also be interested in: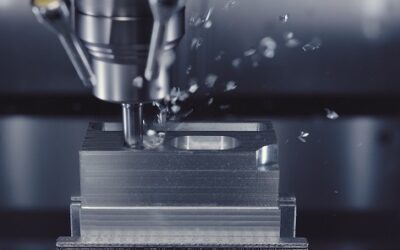 Maximum machining rates and neverending tool lives in aluminium: The new PCD Diver from Gühring promises both. Thanks to its innovative geometry, the tool guarantees top quality with low power consumption and high stability.
read more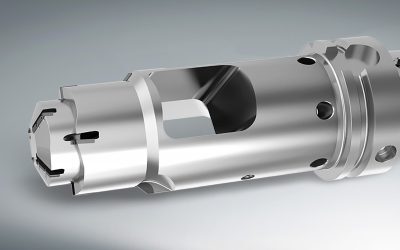 The complicated evacuation of chips from an aluminium component causes problems for the automotive supplier Handtmann. Gühring delivers the solution with a PCD core drill tool made in a 3D printer. The result: no more chips in the connection holes.
read more