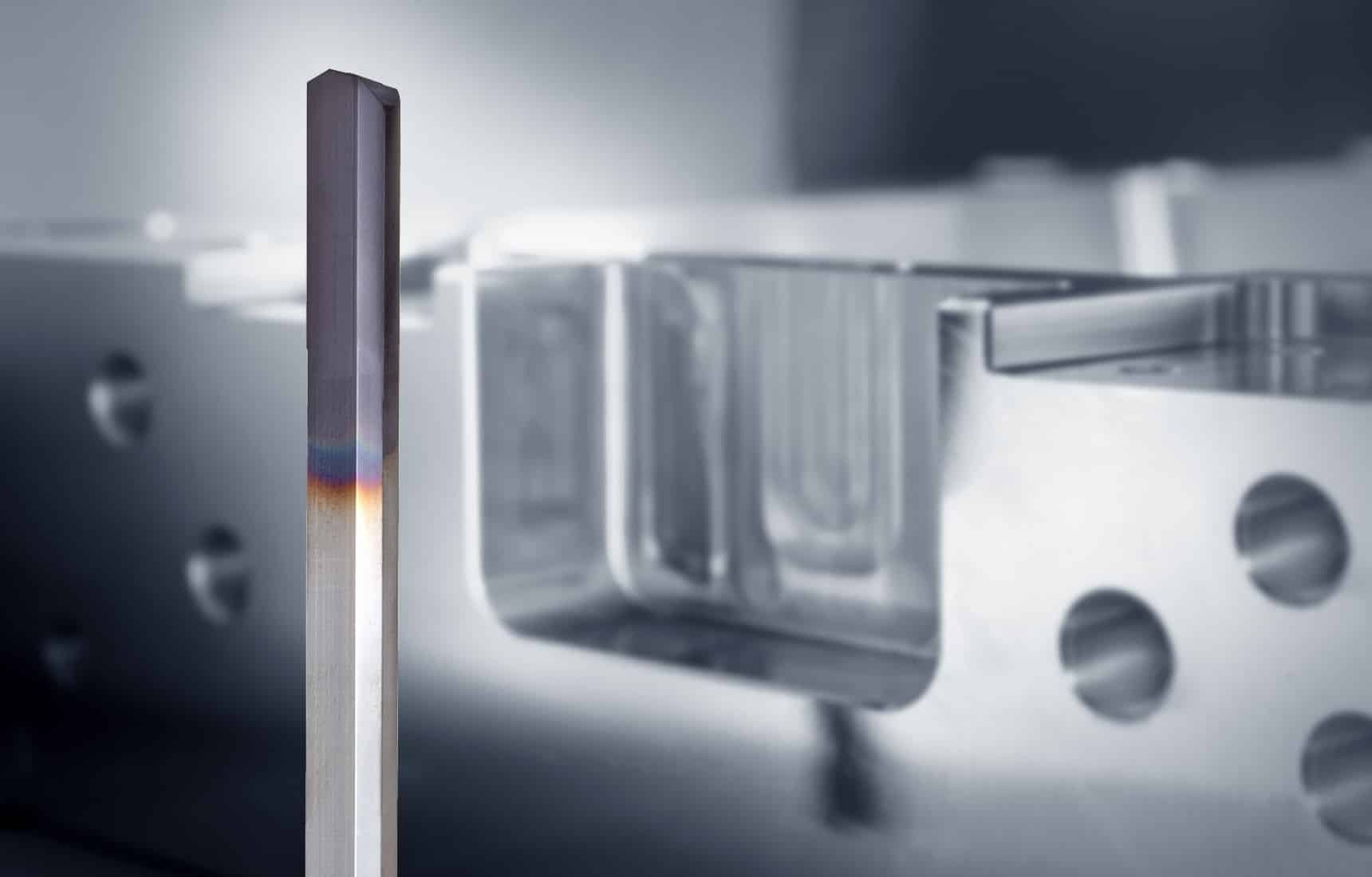 Deep drilling is frequently used in mould making as well as numerous other sectors. However, the design and engineering side often requires the two holes to cross. Intersecting deep holes like this cannot be avoided, but their machining is tricky: That's because the moment that the deep hole drill exits one hole and enters the next, it crosses a gap, which interrupts the cooling process and can sometimes result in a very unfavourable spot drilling or guidance situation. The coolant is no longer capable of flushing out the chips properly, which may damage the tool. The guidance of the tool is also interrupted, which means that the stability of the tool is no longer guaranteed. Gaps like this can only be bridged reliably with the right strategy and the right tool.
Using a practical example, we explain the right way to approach cross holes: A large number of deep holes have to be drilled into a steel form insert (1.2321). These will later serve as coolant gallery holes through which a coolant can flow, for example, in order to control the temperature of the insert. These holes are drilled on a horizontal DMG machining centre;  programming was performed using Tebis. However, cross holes and the resulting gaps make machining particularly challenging. Here we differentiate between two drilling situations in which a particular approach has proven successful.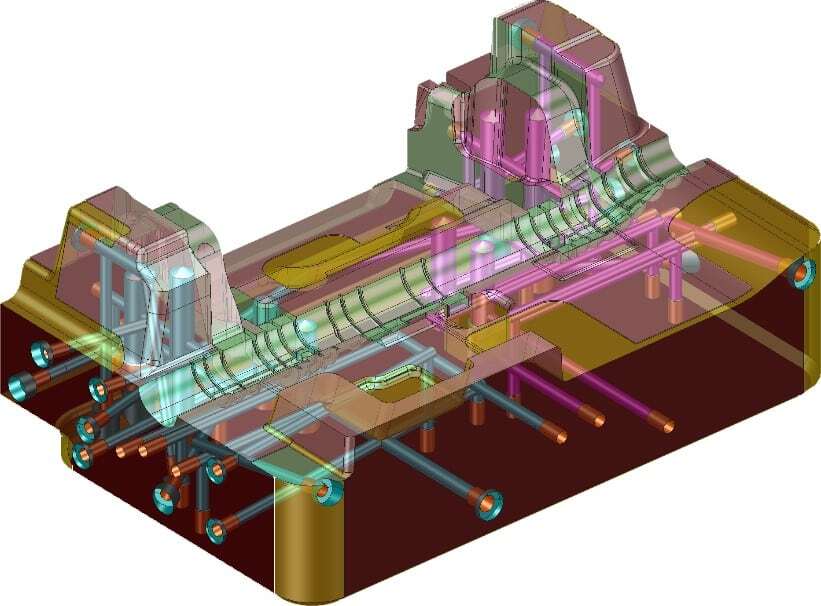 Component provided by Tebis AG
1. Two holes meet at a 90° angle
Not every cross hole is problematic: If two holes meet at a 90° angle, machining usually runs smoothly. In cases like this, a certain approach has proven to be effective, which we will outline using the following example.
Tieflochbohren einer Querbohrung als Sackloch in Stahl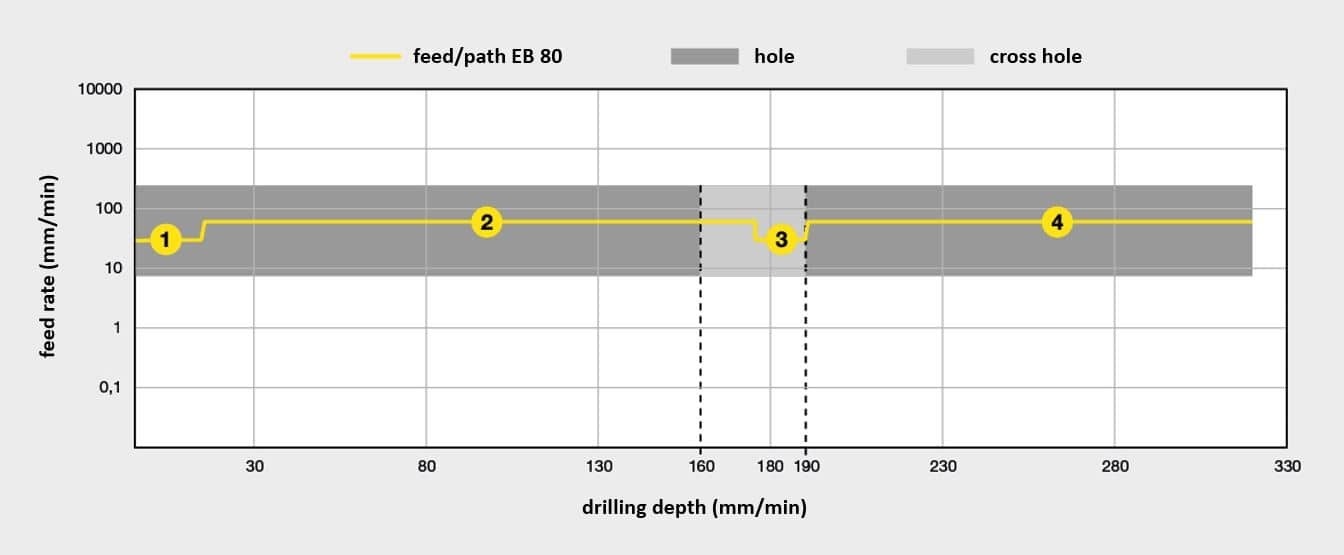 We enter the pilot hole in a counterclockwise direction with a reduced feed rate of 30 mm/min and a speed of 500 rpm. The tool is guided by threading it through the pilot hole at a depth of 12 mm.
Once the drill is in the hole, the feed rate is raised to 60 mm/min and this increased feed rate is used to drill up to the cross hole
We enter the cross hole at the same high feed rate and only when we enter the second hole again do we decrease the feed rate by half from 60 to 30 mm/min.
After threading into the second hole, we raise the feed rate back to 60 mm/min and drill the hole at this high feed rate.
| | |
| --- | --- |
| Tool | Single-fluted gun drill EB 80, Ø 8 mm |
| Component | Form insert |
| Material | Steel (1.2321) |
| Cutting speed | Vc = 50 m/min |
| Rotational speed | N = 1990 rpm |
| Feed rate | Vf = 60 mm/min |
| Drilling depth | Ap = 320 mm |
| Expected tool life | 10 m/175 min = 32 components |
| Total drilling time | 332 sec. |
| Metal removal rate | 3 cm³/min |
2. Two holes create a critical gap
Things become more difficult if the intersection between the holes deviates from this 90° angle (see bottom cross hole in the image). Problems arise even if a small hole meets a larger hole (see top cross hole in the image).
Gühring has developed a special drill head for the EB 80 for applications just like this: This solid carbide drill head has the conventional tapered contour on the cutting part, but is almost twice as long thanks to a straight guide part. This guide part stabilises the tool when it enters the cross hole and ensures that the drill tip spots securely when it enters the material and is not pushed away too much to one side. Another advantage of the guide part is the better hole course. The usual curve values of 0.1 mm/100 mm can be as much as halved thanks to the guide part.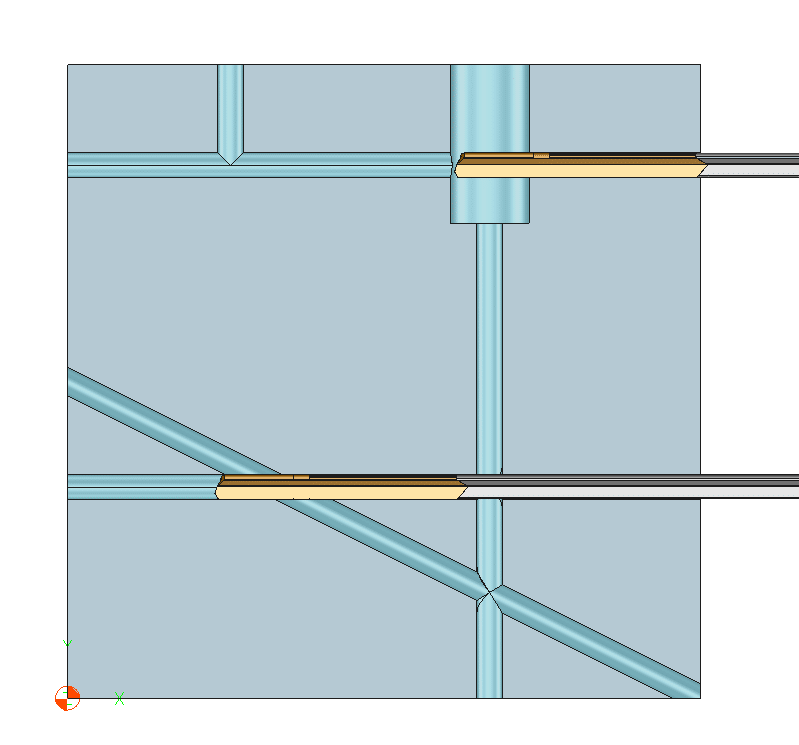 5 rules for creating perfect cross holes
small diameters before large diameters
deep holes before short holes
avoid gaps (coolant pressure loss)
if possible, machine gaps with short drills (torsion)
close cross holes to prevent pressure loss and chip diversion
Technical advice and support are also available quickly and directly via our service hotline 00800 2607 2607
We can also be reached on WhatsApp: +49 172 658 53 53. Save the number!
You might be interested in: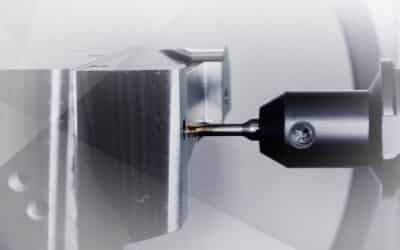 In mould making, there is a trend towards harder and therefore more difficult-to-machine materials. A reference customer machined a mould insert for an injection moulding tool. We will show you which tools are used for this here.
read more