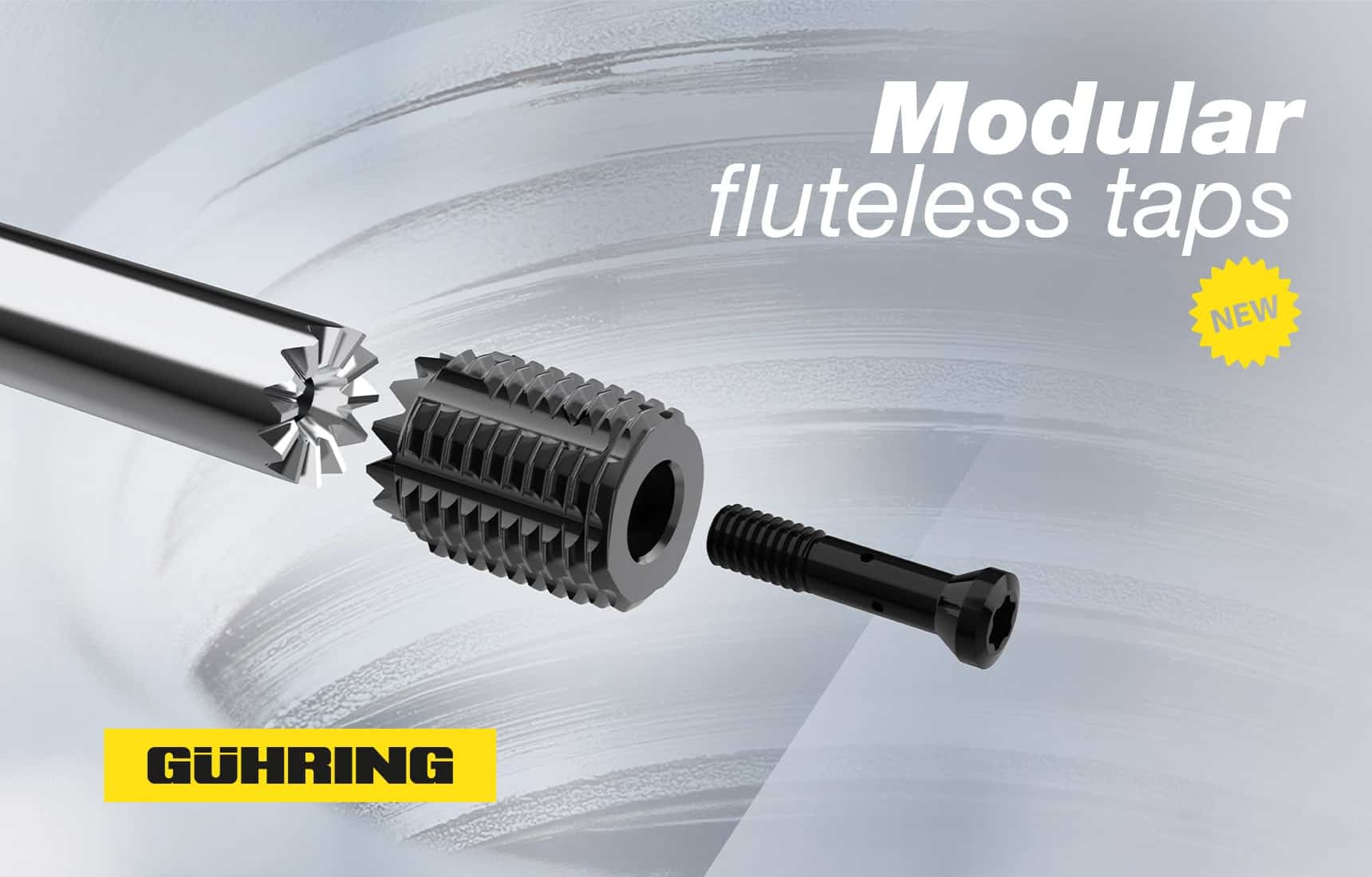 Carbide tools ensure high cycle times, but high speed steel is cheaper and the first choice on legacy machines or systems with a poor clamping setup. Gühring combines both advantages of these cutting materials in one tool by screwing a carbide head onto an HSS shank. The result? A modular system for new fluteless taps.
What do the rotor hub of a wind turbine, a truck's rear axle and the large roller bearing on a crane have in common? Internal threads with large diameters have to be incorporated into all of these components. However, especially when machining very large workpieces, the underlying conditions are often challenging. Because it is not possible to securely clamp large components, vibrations often occur that lead to tool breakage in solid carbide tools. However, tools made of high speed steel cannot provide the high cutting parameters required for cost-effective production of large threads.
Gühring presents the solution to this problem: fluteless taps that combine wear resistance with toughness. The concept consists of a steel shank (HSS-E) and an exchangeable thread head made of carbide with an AICrN coating. Both components are connected via a screw.
Compared to a threading tool made of HSS-E, the carbide thread head both reduces cycle time and increases tool life – even under less than ideal conditions. And because the steel shank makes the tool cheaper than monolithic solid carbide tools, the customer benefits from a double cost advantage.
Can be combined for a wide range of machining operations
Another major advantage of this modular system is its high degree of flexibility: Depending on the component requirements, two different shank lengths can be combined with carbide heads for all thread sizes between M12 and M24. As a result, the tool is also suitable for the production of larger dimensions and longer designs. And if a thread head wears out, the tool shank can still be used up to eight times.
Hirth serrations act as an interface between the shank and the head, absorbing the torsional load and ensuring perfect concentricity and high torque transmission. The torque is also reduced by the tool's special polygon shape and the AICrN coating.
With the modular fluteless tap, threads can be reliably produced in steel, stainless steel, cast materials and even special alloys.
Your advantages with modular threading tools from GÜHRING:
Combination of wear resistance & toughness
Flexibility in terms of tool length and shank diameter
Multiple use of the tool shank (up to 8x)
Use of carbide tools where conditions are not optimal
Instructions: How to assemble the modular tap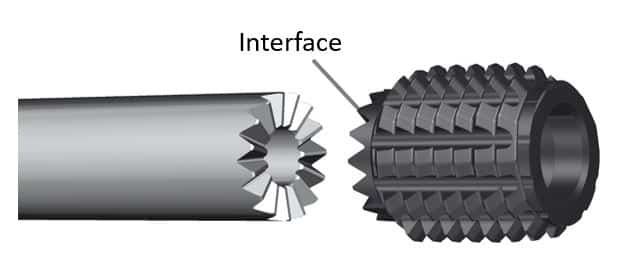 2. Position the solid carbide head on the shank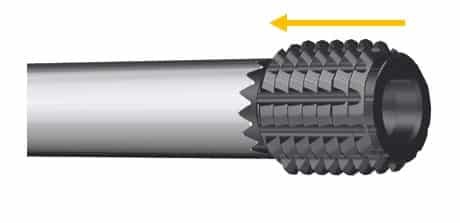 3. Insert the supplied screw into the solid carbide head.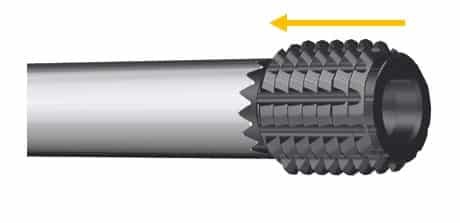 4. Use a torque wrench to tighten the bolt to the recommended torque (Mz). This can be found in the table:
| | | |
| --- | --- | --- |
| Product Ø | Mz | Attachment |
| M12-M14 | 5.5 Nm | Torx + IP15 |
| M16-M20 | 10.5 Nm | Torx + IP20 |
| M22-M24 | 40 Nm | Torx + IP40 |
Technical advice and support are also available quickly and directly via our service hotline 00800 2607 2607
We can also be reached on WhatsApp: +49 172 658 53 53. Save the number!
You might also be interested in: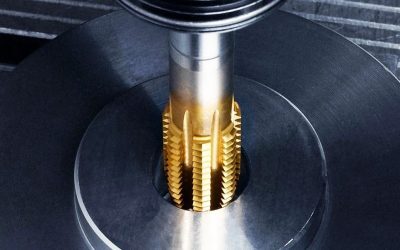 The thread comes at the end of the production chain when you have already invested a lot of time and money in the component. We show you typical problems that occur when thread tapping, thread milling and fluteless tapping and how you can prevent them.
read more